Texas A&M seems to be one of the most fun and laid-back teams in college football — throughout the year, the Aggies have shown us some personality on numerous occasions. Today, we got another glimpse at the fun side of the players, this time running backs Ben Malena and Trey Williams. Apparently, the two have a pretty funny pregame routine in which they go through a mock photoshoot...
Johnny Manziel's teammates apparently have his back. After scoring Texas A&M's first touchdown of the season, running back Ben Malena celebrated by 'asking for money'. Whether Malena's celebration was a direct slap in the face or just a coincidence remains to be seen. Manziel was suspended for the first-half of the Aggie's opener against in-state rival Rice. [Cork...
Texas A&M fans can breath easy now. Heisman Trophy-winning quarterback Johnny Manziel was found not guilty of signing autographs for money, but he's still going to be suspended for the first half of the season opener this weekend. Manziel had been accused of taking money 
Texas A&M's running back Ben Malena seems to lift if the below image is any indication. Check out the arms on Ben, and then wonder why you aren't at the gym right now trying to get yours to look that way. It is almost frightening how cut they are. [Paul Myerberg] Article found on: Next Impulse Sports
The Louisville Cardinals and Texas A&M Aggies are going to be two of the best teams in college football this season. Both have Heisman-caliber quarterbacks, solid wide receivers, and a running back that you don't want to arm wrestle. Clearly both guys have spent some time in the weight room and have no intention of dropping a ball or getting stripped this season. But...
Johnny Manziel isn't the only gun-toating baller in the Texas A&M Aggies' backfield. Running back Ben Malena and his jacked arms are ready to run.
9. Stephen Morris (Senior, Miami) Rounding out our Top 9 is none other than Miami's Stephen Morris. Morris had an interesting 2012 with the Miami Hurricanes and hopes to build on a successful offseason in 2013. According to reports from the Manning Passing Academy, Morris put on quite the show in winning the skills competition. Morris was Miami's starting quarterback in 2012...
Texas A&M quarterback Johnny Manziel was supposed to be suspended for the entire 2012 season by the school, but Aggies coach Kevin Sumlin said he helped get the penalty overturned. Manziel confirmed last week that he faced a season-long suspension for his role in a bar fight last summer when he was found with a fake ID.  As a result of the penalty, 
OUT OF MY WAY
The video speaks for itself, but the Gators do not look very good and Texas A&M is having an outstanding opening day in the SEC. Meanwhile, Texas A&M quarterback Johnny Manziel is 12 of 14 with 7 minutes left in the 2nd quarter. The score is currently 17-7 Aggies.
Ryan Tannehill threw for 329 yards and a touchdown and Ben Malena ran for two more scores to lead Texas A&M to a 33-22 win over Northwestern on Saturday in the Meineke Car Care Bowl. Northwestern led 7-3 early in the second quarter before A&M reeled off 27 straight points to take a decisive lead and then fight off a late rally to capture its first bowl victory since 2001...
MORE STORIES >>
College Football News

Delivered to your inbox

You'll also receive Yardbarker's daily Top 10, featuring the best sports stories from around the web. Customize your newsletter to get articles on your favorite sports and teams. And the best part? It's free!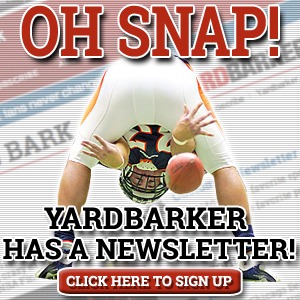 THE COLLEGE FOOTBALL HOT 10