EDEN PRAIRIE, Minn. The Minnesota Vikings tried various maneuvers during training camp and the preseason to simulate pressure for rookie kicker Blair Walsh. There was no way to prepare Walsh for what he'd have to do in his first NFL regular-season game. Walsh came on with four seconds left in the fourth quarter and nailed a clutch 55-yard field goal to put Sunday's game...
EDEN PRAIRIE, Minn. When the Minnesota Vikings entered the offseason coming off a 3-13 record, there were many changes expected, several spots to address. Kicker wasn't expected to be one of them. Minnesota had veteran Ryan Longwell, one of the most accurate kickers in the league since coming to the Vikings, with three years at 7 million remaining on a four-year contract he...
EDEN PRAIRIE, Minn. When the Minnesota Vikings drafted a kicker in the sixth round two weeks ago, the writing appeared to be on the wall for incumbent Ryan Longwell.Longwell, 37, who has the second-most points among kickers in team history with 633, was cut Monday after Minnesota added Georgia's Blair Walsh. Vikings general manager Rick Spielman indicated Wednesday that it was...
The Minnesota Vikings have selected Georgia kicker Blair Walsh in the sixth round of the NFL draft. Walsh made 21 of 35 field goals for the Bulldogs last season. Veteran kicker Ryan Longwell signed a four-year deal before last season, so Walsh could be used as a kickoff specialist early in his career with the Vikings. It's been a busy day for the Vikings, who started it by...
The Vikings used their sixth-round pick on a kicker, Blair Walsh of Georgia.
Former UGA kicker Blair Walsh (D.Orlando Ledbetter/Dledbetter@ajc.com) INDIANAPOLIS  – Here's a Q&A with former Georgia kicker Blair Walsh. Q: How do you handle pressure kicks? A: I don't think you can have that pressure when you kick field goals. I think you have to go out there and have fun and enjoy what you do. You have to be confident in your abilities, because your...
Blair Walsh endured a forgettable 2011 The one aspect of the 2012 season that isn't getting much rotation is the fact that Georgia will enter the year with an unproven punter, kicker, or return specialist. Some (myself included) have already factored in guys like Branden Smith—as well as other players like Malcolm Mitchell and Damian Swann—as possibilities for the...
Brandon Boykin's heroic efforts were left unrewarded. Okay, call me misinformed, ill-advised, stupid, crazy, or whatever you like, but I cannot for the life of me understand why Coach Richt went for a field goal on third down, in overtime, when he could have run one more offensive play to give Blair Walsh—a complete disaster of a kicker this season—a little less yardage...
              Georgia fans, we're finally here: with just three games left, it's the week of the Deep South's Oldest Rivalry, as the Bulldogs take on the #24 Auburn Tigers at Sanford Stadium. This game is arguably the biggest game of the season for Georgia, as they can pretty much clinch the SEC East with a win on Saturday (the Dawgs still have to play Kentucky...
"There was a period of time when Walsh was knocking them out of the end zone like three or four games like every time," junior Shawn Williams said. "I guess they got relaxed expecting him to knock it out of the end zone and they weren't quite running, busting it down field. That plays a part in it, too." Williams, if you recall, is the starter who pulled a player off of...
MORE STORIES >>
College Football News

Delivered to your inbox

You'll also receive Yardbarker's daily Top 10, featuring the best sports stories from around the web. Customize your newsletter to get articles on your favorite sports and teams. And the best part? It's free!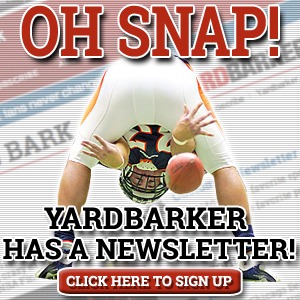 THE COLLEGE FOOTBALL HOT 10