Has anyone in college football had a better offseason than Bo Pelini? The Nebraska coach has won the hearts of many throughout the spring and summer months, carrying a cat onto the field during the Huskers' spring game, live tweeting his trip to an amusement park on July 4, unveiling his team's new "Red Rising" uniform by wearing it himself, and wishing a heartfelt "get...
The Nebraska Cornhuskers are one of just four teams to have won nine or more games in each of the last four years, so put that in your pipe and smoke it haters. OK, that may be a bit strong of a statement, but it does put in to perspective how hard it is to be a consistent winner in college football. On the flip side, Bo Pelini has failed to do something that every other one of the...
When Jack Hoffman, a young Nebraska Cornhuskers superfan, scored on a 69-yard touchdown while being escorted by players during the team's 2014 spring game, the then-eight-year-old not only ran into the end zone, he ran into the hearts of millions who were perhaps even moved to tears watching the youngster diagnosed with brain cancer realize […] The post Bo Pelini, Cornhuskers...
Jack Hoffman, the 8-year-old Nebraska superfan, got some unfortunate news a couple weeks ago when he learned his cancer had returned. It was a discouraging announcement for the young boy who had been in remission since last October. That still didn't crush Jack's spirit, though. He's a fighter, so much so that he's bonded with the Nebraska football team and head coach...
Earlier this month, we heard the terrible news that 8-year-old Nebraska superfan Jack Hoffman faces another round of chemotherapy or surgery for a brain tumor. While the news was horrible, the way people in the Nebraska community have rallied has been beautiful. One example of this came today, when the school released a video of the Cornhuskers football program sending their support...
The bizarre love affair between Nebraska's Bo Pelini and the man who runs his famous fake Twitter account @FauxPelini continues. Saturday, after Cornhuskers practice, Pelini took part in the ALS Ice Bucket Challenge, just as many other coaches in the country have done. When it came time to nominate a few people to carry on the tradition, Pelini targeted Ndamukong Suh, all of the...
Nebraska Cornhuskers athletic director Shawn Eichorst hasn't been on the job for even a year, but he's already had to issue two public statements of support for football head coach Bo Pelini. On Wednesday, Eichorst sat down with two Nebraska newspapers and the AP for a 45-minute interview, and during that time the subject of Pelini's performance as football head coach came...
Let's face it – college football head coaches aren't usually the most photogenic guys on the planet. But you'd still think that Nebraska's Bo Pelini could have given a little more effort here. We have no idea how Pelini, dressed in a t-shirt, cargo shorts and sandals, found himself next to two newlyweds in a parking lot, but it must have been quite the scene. Here are two...
Bo Pelini models the Nebraska Cornhuskers' "Red Rising" uniform during the team's big reveal.
Nebraska coach Bo Pelini was a special guest on SportsCenter during Thursday morning's show, talk about the upcoming college football season. Either the appearance was too early for him to be able to make sensible fashion choices or his entire wardrobe hasn't changed since 1985. Seriously, check out this horrendous outfit: Article found on: Next Impulse Sports
MORE STORIES >>
College Football News

Delivered to your inbox

You'll also receive Yardbarker's daily Top 10, featuring the best sports stories from around the web. Customize your newsletter to get articles on your favorite sports and teams. And the best part? It's free!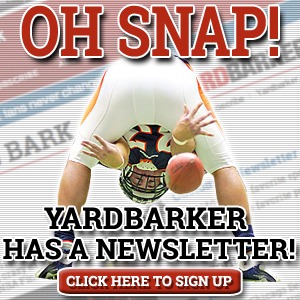 THE COLLEGE FOOTBALL HOT 10