Most college football fans know the difference between the FBS and the FCS. As a refresher, FBS is the "Football Bowl Subdivision," and is composed of 125 schools that are eligible to play in bowl games at the end of the season. It also used to be known as "Division I-A." The FCS is the "Football Championship Subdivision," used to be known as "Division I-AA," and...
Despite Nebraska's blowout victory against Florida Atlantic in the season opener, many Husker fans still had cause for concern at the end of the first Saturday of the college football season.  The team's star defensive player, defensive end Randy Gregory, played just one series before sitting out the rest of Nebraska's 55-7 victory with ice taped around his left knee.  Following...
Game Day Goulash - Saturday of Week One. It feels just like the Fourth of July.  Flirting With Disaster.Michigan State starting quarterback Connor Cook dodged the injury bullet Friday night as he led the Spartans to a 45-7 victory over Jacksonville State. (AP/ESPN)Hart to Hart. Former Alabama running back Dee Hart leads new school Colorado State to a 31-17 win over Colorado. ...
Bo Pelini spoke at the annual Big Red Breakfast on Friday morning and provided more than just his thoughts on the upcoming season. According to Rich Kaipust of the Omaha World-Herald, the Nebraska coach somehow went off on a tangent about weed. His basic message was that drugs are very, very bad, mmkay. "It is […]
Bo Pelini has never been one to hold is tongue and that was evident when he went on a tangent about marijuana at a Nebraska function. Here are some quotes courtesy of Omaha.com: "Let's face it, it's not OK," Pelini said. "I think everybody that's our age, my age, hopefully understands that it's not OK. It's not good. It's not good for you. And these kids do it...
Has anyone in college football had a better offseason than Bo Pelini? The Nebraska coach has won the hearts of many throughout the spring and summer months, carrying a cat onto the field during the Huskers' spring game, live tweeting his trip to an amusement park on July 4, unveiling his team's new "Red Rising" uniform by wearing it himself, and wishing a heartfelt "get...
The Nebraska Cornhuskers are one of just four teams to have won nine or more games in each of the last four years, so put that in your pipe and smoke it haters. OK, that may be a bit strong of a statement, but it does put in to perspective how hard it is to be a consistent winner in college football. On the flip side, Bo Pelini has failed to do something that every other one of the...
When Jack Hoffman, a young Nebraska Cornhuskers superfan, scored on a 69-yard touchdown while being escorted by players during the team's 2014 spring game, the then-eight-year-old not only ran into the end zone, he ran into the hearts of millions who were perhaps even moved to tears watching the youngster diagnosed with brain cancer realize […] The post Bo Pelini, Cornhuskers...
The bizarre love affair between Nebraska's Bo Pelini and the man who runs his famous fake Twitter account @FauxPelini continues. Saturday, after Cornhuskers practice, Pelini took part in the ALS Ice Bucket Challenge, just as many other coaches in the country have done. When it came time to nominate a few people to carry on the tradition, Pelini targeted Ndamukong Suh, all of the...
Nebraska Cornhuskers athletic director Shawn Eichorst hasn't been on the job for even a year, but he's already had to issue two public statements of support for football head coach Bo Pelini. On Wednesday, Eichorst sat down with two Nebraska newspapers and the AP for a 45-minute interview, and during that time the subject of Pelini's performance as football head coach came...
MORE STORIES >>
College Football News

Delivered to your inbox

You'll also receive Yardbarker's daily Top 10, featuring the best sports stories from around the web. Customize your newsletter to get articles on your favorite sports and teams. And the best part? It's free!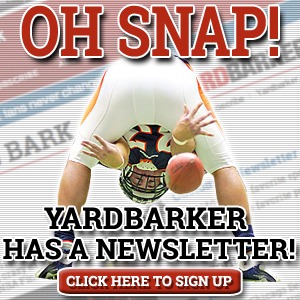 THE COLLEGE FOOTBALL HOT 10