For anyone unfamiliar with Oklahoma Sooners football, after each Oklahoma touchdown, two white ponies pull the Sooner Schooner onto the field and then back off. With temperatures in Norman, Oklahoma, reaching the mid-90′s today, the Sooners football practice was probably tougher than usual today. Hoping to cool off his players today, Sooners head coach Bob Stoops took to the Sooner...
Preseason camp can be pretty draining for college football players. Practicing everyday in the August heat is extremely repetitive and tiring, so coaches often attempt to do things to liven up the atmosphere.  Mark Richt recently gave his team an afternoon off so they could go swimming. Kevin Sumlin cancelled a practice and provided his players with a trip to the movies.  Bob Stoops...
We're admittedly a week late on this, but it's such a great story, we think it's still worth telling. At this year's Sooner Caravan in Oklahoma City, Sooners head coach Bob Stoops explained how he first learned that his team would be taking on two-time defending national champion Alabama in the Sugar Bowl last season.  In a nutshell, Stoops was first excited to learn that...
NORMAN, Okla. - Bob Stoops and Oklahoma didn't win the national championship in 2013, but Stoops, one could argue and be correct, did a masterful coaching job. He went through three quarterbacks, a change in defense, a change in offense and a mid-season slump which included a loss to Texas. Stoops and the Sooners also won at Notre Dame, won at Kansas State, won at Oklahoma State...
Earlier this week, Oklahoma athletics released a statement on Sooners' freshman running back Joe Mixon. The five-star recruit was reportedly involved in an altercation at a sandwich shop in Norman, Okla. that allegedly led to an assault. OU's statement said that Mixon will not be reporting to any team activities.  Today, Oklahoma coach Bob Stoops commented on his player's...
Bob Stoops is having a pretty good offseason.  The Oklahoma coach seems to have been riding high ever since the Sooners defeated Alabama in the Sugar Bowl, 45-31. It was a game very few people expected Oklahoma to win, but Stoops' squad jumped all over the Crimson Tide and didn't let up.  Last night at a Sooners Caravan event, Stoops was introduced as the SEC's slayer. ...
NORMAN, Okla. -- Bob Stoops was creative and innovative. He was liberal and daring. Fluid and flexible. Not just in January's Sugar Bowl, a 45-31 victory over Alabama that boosted morale and did more for positive public relations in Oklahoma than a Kevin Durant MVP speech, but all last season. Stoops was at his finest in 2013, mixing and matching running back and quarterbacks...
Stoops and Saban square off in the Big EastAP Photo/Gerald Herbert There is absolutely no love lost between Oklahoma Sooners head coach and the Southeastern Conference (SEC).  The entire college football world (outside of the SEC footprint) has suffered from a a little "SEC-fatigue" over the last eight seasons, which resulted in seven SEC BCS Championships before the streak...
The Oklahoma Sooners have just unveiled some brand spankin' new alternate gear for the upcoming 2014 college football season which have unofficially been dubbed "The Rough Rider" uniform. "Our team and our fans love the iconic look of our classic OU uniforms that the Sooners have worn dating back to the 1960s, and we'll continue to utilize those jerseys, pants and helmets...
Oklahoma head coach Bob Stoops has been one of the most successful coaches in college football since the turn of the century.  In 15 seasons (1999-2013) with the Sooners, Stoops has complied a record of 159-39 and made a name for himself as "Mr. BCS" with more appearances in BCS bowl games (nine) and more conference titles than any other coach. Stoops has resisted countless...
MORE STORIES >>
College Football News

Delivered to your inbox

You'll also receive Yardbarker's daily Top 10, featuring the best sports stories from around the web. Customize your newsletter to get articles on your favorite sports and teams. And the best part? It's free!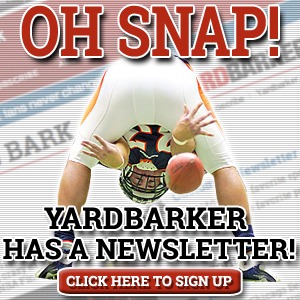 THE COLLEGE FOOTBALL HOT 10