Twitter/@OU_Football Oklahoma had little trouble getting past upset hopeful Tennessee last weekend. This week, the Sooners get West Virginia, who is much-improved from a year ago. The Mountaineers will host Bob Stoops' squad at 2-1, coming off a last-second victory against Maryland in College Park. Oklahoma, meanwhile, is 3-0, and ranked No. 4 in the country.           Do...
Oklahoma generated some serious buzz by unveiling new alternate uniforms this offseason, and according to head coach Bob Stoops, the Sooners will be wearing them this weekend when they travel to West Virginia. Stoops said #ou will wear alternate uniforms at West Virginia. #sooners — John Shinn (@john_shinn) September 17, 2014 Saturday. pic.twitter.com/qBBewinfm9 — Oklahoma...
Fourth-ranked Oklahoma will be without sophomore Keith Ford when they travel to West Virginia this weekend. Sooners coach Bob Stoops said Monday that Ford will be out at least two to three weeks after suffering a slight fracture in a non-weight-bearing bone in his ankle late in Oklahoma's 34-10 win over Tennessee. Ford has rushed for 194 yards and five touchdowns this season...
Oklahoma, of course, wants its football team to look good in primetime Saturday night against Tennessee. The Sooners' apparently want their stadium to look good, too.  Bob Stoops' team is set to take on Tennessee this weekend in a nationally-televised contest. Oklahoma officials have set plans for Gaylord-Family Oklahoma Memorial Stadium to be "striped out." In various sections...
Bob Stoops hasn't been shy when it comes to his feelings about the SEC. As he gets his team prepared to take on Tennessee this weekend, Stoops didn't have much to say about his previous comments, but did take a little jab at the SEC. Oklahoma's coach knew questions about his vocal disdain for the Southeastern Conference's perceived superiority were coming Monday as his fourth...
If it's possible to be a rival of an entire conference, the Oklahoma football program seems to be one to the SEC.  Sooners' coach Bob Stoops has questioned the SEC's overall strength, poked fun at Texas A&M's non-conference schedule and, perhaps most importantly, defeated the conference's flagship program, Alabama, in last January's Sugar Bowl.  Stoops says his...
Until now Oklahoma freshman running back Joe Mixon and his lawyer have claimed that when he assaulted a young woman outside a restaurant in July he was acting in self defense. On Thursday, police showed surveillance video of the incident to members of the media and it appeared to completely contradict that account. The encounter between Mixon and Amelia Rae Molitor took place outside...
Bob Stoops wouldn't speak much Monday about Dorial Green-Beckham's situation a few days after the NCAA denied a waiver request for immediate eligibility and Oklahoma all but announced it wouldn't pursue the matter further. But Stoops did say Green-Beckham remained in class at OU and that he planned—right now—on staying around next season. Green-Beckham is eligible to...
The Oklahoma Sooners have just unveiled some brand spankin' new alternate gear for the upcoming 2014 college football season which have unofficially been dubbed "The Rough Rider" uniform. "Our team and our fans love the iconic look of our classic OU uniforms that the Sooners have worn dating back to the 1960s, and we'll continue to utilize those jerseys, pants and helmets...
Oklahoma head coach Bob Stoops has been one of the most successful coaches in college football since the turn of the century.  In 15 seasons (1999-2013) with the Sooners, Stoops has complied a record of 159-39 and made a name for himself as "Mr. BCS" with more appearances in BCS bowl games (nine) and more conference titles than any other coach. Stoops has resisted countless...
MORE STORIES >>
College Football News

Delivered to your inbox

You'll also receive Yardbarker's daily Top 10, featuring the best sports stories from around the web. Customize your newsletter to get articles on your favorite sports and teams. And the best part? It's free!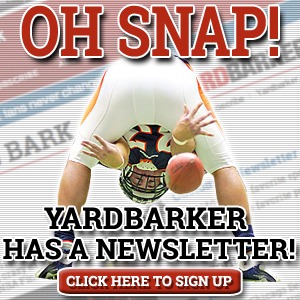 THE COLLEGE FOOTBALL HOT 10