The lighter side of Bo Pelini has been showcased this offseason. He held a cat up high above his shoulders before Nebraska's spring game, spent the Fourth of July live tweeting his trip to an amusement park, and made a couple of jokes at Big Ten Media Days.  He's still got an intense side, though.  Today, Pelini and other Big Ten coaches are going through a "Car Wash" style...
On Twitter @TheCoachBart Countless columns of mine start out like this, but there was this Seinfeld episode once upon a time where Kramer had a hideously annoying red head girlfriend who goes and heckles Jerry at one of his shows and throws him off a bit. Jerry, incensed, plots to partake in the ultimate comedian's revenge … going to her job to heckle her. So he does. And it...
Over the last few years I have been somewhat critical of Michigan head coach Brady Hoke. I feel my criticisms have been justified based on the results the Wolverines have been putting together on the field since his arrival, and I feel this is a very important season for Hoke in Ann Arbor. Hoke replaced Rich Rodriguez in 2011 with nowhere to go but up. The Rodriguez era was a disaster...
Over the last few years I have been somewhat critical of Michigan head coach Brady Hoke. I feel my criticisms have been justified based on the results the Wolverines have...
With all that should be asked about at Big Ten media days, it makes me laugh to hear about any Notre Dame questions. Two of the questions were for Michigan, and as Ryan Ritter has already covered the words belched out of Brady Hoke's hot dog filled mouth, I'll now take a look at what Michigan defensive end, Frank Clark had to say about Notre Dame Stadium and its fans: Michigan...
At Monday's Big Ten Media day in Chicago, Michigan's head coach Brady Hoke was of course asked about UM's upcoming season, how he felt about the NCAA new rules, but also about a new sign that in the weight room. Reporter gives Hoke the: "There's a sign in your weight room about Michigan State …" He […] The post Brady Hoke Has Hilarious Response To Reporter's...
Heading into the 2014 season, the Michigan quarterback situation still looks to be up in the air. In one end you have highly touted sophomore Shane Morris and on the other end you have fifth-year senior Devin Gardner. But with camp a week away has anyone of the two emerged as the favorite to take the reigns as Michigan's starting QB in 2014? Well, from what Brady Hoke is spouting...
Michigan Football's BBQ at the Big House is slated for Sunday afternoon. The Wolverines kickstarted the weekend with a huge commitment from 2015 WR/Safety Brian Cole (Saginaw, Michigan). Cole, who has been on campus since Friday with quarterback commit Alex Malzone, announce on twitter that he and committed to Michigan. Proud to say im a Michigan Wolverine! 〽️ Cole, who choose...
Expectations aren't too high for the Michigan football team this season. The Wolverines are a fringe top 25 team in most preseason polls and nobody is picking them to win the Big Ten.  A good season is likely needed to keep the Ann Arbor faithful happy, though. It's Brady Hoke's fourth year leading the program and the coach is coming off back-to-back five-plus loss campaigns...
Michigan Football will begin fall practice in two short weeks. Between now and then, Brady Hoke and his staff will host a major recruiting event that they call the Barbecue at the Big House. This will take place on 27 July and there will be a number of committed and uncommitted recruits on hand. The Wolverines 2015 recruiting class is currently comprised of eight committed players...
MORE STORIES >>
College Football News

Delivered to your inbox

You'll also receive Yardbarker's daily Top 10, featuring the best sports stories from around the web. Customize your newsletter to get articles on your favorite sports and teams. And the best part? It's free!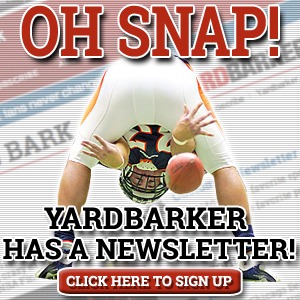 THE COLLEGE FOOTBALL HOT 10