Is anyone really surprised at the outcome of the game against Utah? Prior to kickoff, all signs pointed to a Utes victory. But we, the great people of Michigan, held out hope that actions on the field and decisions made on the sidelines would result in a victory for the Wolverines. Ouch were we wrong. Just the Facts Ultimately the Wolverines would out-gain the Utes on the day posting...
On Twitter @TheCoachBart You write about things that don't really matter in the grand scheme of things long enough … like sports … and eventually you run across a few of these that you don't really want to write. So cue tonight. We all have jobs, or at least have had jobs at some point. They all require something of us. For the salesman, it's meeting a quota. For the teacher...
Brady Hoke and defensive coordinator Greg Mattison got into a bit a shouting match after the Wolverines took an interference from the sideline penalty earlier in today's game. From the looks of it that may have came from Mattison considering Hoke ever so politely told him to get his ass off the field. Mattison wasn't backing down though and gave it Brady right back. Probably...
A disgruntled Michigan fan (or smart ass rival fan) took to Michigan head coach Brady Hoke's Wikipedia page making edit that could very soon be a reality if things don't turn around. According to entry, Hoke was referred to as the "former head football coach for the Michigan Wolverines" and that he was fired on September 20th. Well this may be a disappointment to some Blue...
It's been a rough day for Brady Hoke. His Michigan Wolverines are losing, he's getting into shouting matches with his defensive coordinator on the sidelines, and now, someone edited his Wikipedia page to say that he's "unemployed" and "the former head football coach for the Michigan Wolverines football team." According to this edit — which was probably made by a...
Things are getting a little heated on the Michigan sideline this afternoon.  The Wolverines currently trail Utah, 13-10, at halftime at Michigan Stadium in Ann Arbor, Mich. The Utes returned a punt 66 yards for a touchdown and have held Michigan to 3 of 9 on third down.  Prior to the end of the first half, Brady Hoke and defensive coordinator Greg Mattison got into a screaming...
Make no mistake, the game on Saturday in the Big House is the biggest game in Brady Hoke's coaching career at Michigan…this week! And there is plenty of talk going around that the Utes from Utah and their 3rd ranked scoring offense will be too much to handle for the Maize and Blue. The media in Utah seems quite comfortable picking the Utes to do something they struggle to accomplish...
Michigan Football will host Utah on Saturday afternoon at the Big House. Kickoff is scheduled for 3:30 (EST) and the game will be televised on ABC/ESPN2. Click here for a complete game preview. Read on for the staff picks and let us know who you think will win in the comments section. Rob White So far this season, Rob is 2-1 picking the results of Michigan games Brady Hoke This is...
Michigan (2-1) vs Utah (2-0) Saturday, September 20th, 2014 3:30 PM (on ABC and ESPN2)   This week, the 2-0 Utah Utes will travel to the big house to take on the 2-1 Wolverines. The Wolverines are coming off a much needed victory over Miami of Ohio and could use a big win over Utah to show the nation that the Notre Dame loss wasn't a good representation of their team. [Michigan...
Michigan tailback Ty Isaac will not play for the Wolverines this season. The transfer from USC had his appeal denied by the NCAA, U-M coach Brady Hoke confirmed today. "It didn't go through," Hoke said at a press conference at Schembechler Hall. Michigan had initially applied to make Isaac immediately eligible under a hardship waiver. His petition was based on transferring...
MORE STORIES >>
College Football News

Delivered to your inbox

You'll also receive Yardbarker's daily Top 10, featuring the best sports stories from around the web. Customize your newsletter to get articles on your favorite sports and teams. And the best part? It's free!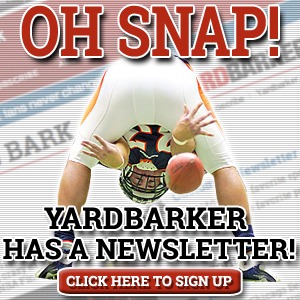 THE COLLEGE FOOTBALL HOT 10