After the embarrassing and program perspective altering loss on the road to Notre Dame left Brady Hoke and his players scrambling to maintain respectability during the week, Miami of Ohio and their 18-game lossing streak came calling to Ann Arbor. And for many fans and supporters, there couldn't have been a better team for the Wolverines to play next. Miami University's last...
Three weeks into the 2014 college football season, the first season with the College Football Playoff, the Michigan Wolverines find themselves struggling to find a positive identity. Reeling from their historically porous showing against the Irish in Notre Dame Stadium only a week ago (shutout for the first time in 42 meetings against the Irish), Blue must focus their anger into...
THIS IS MICHIGAN! The moment Michigan Wolverine head coach Brady Hoke first took the stage in his very first press conference back in 2011 he declared,   "This is Michigan!" And because he did, his team and their performance on the field needs to live up to the expectation and standard he himself set. Well, this is MICHIGAN! And after two games we still have no clue...
Entering the 2014 season many Michigan fans did not think we would be in this situation so early in the season and I was one of them. Everything that transpired led many including myself to believe that 2014 was "the year" for Michigan football. Many also witnessed the hiring of Doug Nussmeier, the flipping of the position coaches defensively and the cohesive gelling of the players...
Notre Dame's dismantling of Michigan last Saturday in South Bend has Wolverines fans in a quandary. That's because this was supposed to be the year that the "Michigan Difference" would grab hold of the football program and elevate it to the level of the very best teams in the country. It has been an extremely difficult decade for Michigan fans. The Wolverines have...
This Michigan fan's Brady Hoke rant orders up some burritos for the coach.
In their final matchup with Notre Dame for the foreseeable future, Michigan entered Notre Dame Stadium hopeful to give Brady Hoke his first big road victory of his Michigan career. They will leave with an all-time losing record of 9-10-1 in South Bend, in yet another embarrassing loss in a major road game.So embarrassing. Easily the worst loss of Hoke's at Michigan career so...
In the daily beat reporter business covering college football, the quality of your day is dependent on the responsiveness of your head coach. The sport has those who gift a reporter with quirks and quotes like Steve Spurrier and Les Miles. Others have to deal with coaches who would rather have a root canal than speak to the media. At least for Notre Dame week, Michigan head coach...
Brady Hoke Michigan Football picked up a big commitment on Friday when 4 star defensive tackle Darian Roseboro (Lincolnton, North Carolina) announced he would be playing his college football for Brady Hoke and the Wolverines. The 6-foot-4, 285 pound Roseboro is ranked #42 overall by rivals.com and the #6 defensive tackle prospect. Roseboro is the 11th member of Michigan's stellar...
Earlier this month, Michigan head coach Brady Hoke suspended sophomore wide receiver Csont'e York for "failing to meet team standards." What you're about to see in the below video, released by Ann Arbor police and originally posted by MLive.com, seems to suggest that York may have to worry about more than just his status on the Wolverines football team. The clip allegedly...
MORE STORIES >>
College Football News

Delivered to your inbox

You'll also receive Yardbarker's daily Top 10, featuring the best sports stories from around the web. Customize your newsletter to get articles on your favorite sports and teams. And the best part? It's free!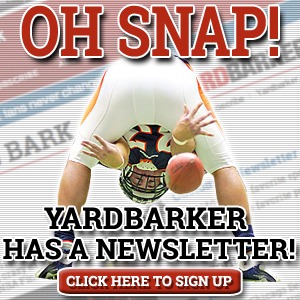 THE COLLEGE FOOTBALL HOT 10