Brady Hoke out, Jim Harbaugh in.  That's the ideal scenario for many Michigan football fans, who want the current coach fired and the San Francisco 49ers' head man brought back to Ann Arbor, Mich.  Check out these "Harbaugh Now, Enough Is Enough" T-shirts for sale on campus today at Michigan.  Spotted in Ann Arbor pic.twitter.com/ohy7uSgXYb — Bill Landis (@BillLandis25...
Michigan Football (2-4, 0-2) will host Penn State (4-1, 1-1) on Saturday night at the Big House. Kick off is scheduled for 7pm and the game will be televised on ESPN2. Click here for a complete game preview. Rob White So far this season, Rob is 3-3 picking the results of Michigan games Last week, I summoned up some Ozzy Osbourne and A Few Good Men to help explain my prediction....
The hottest seat in Ann Arbor, Mich. might not be Brady Hoke's, but the one that belongs to athletic director Dave Brandon.  There are those calling for the Wolverines' coach to be fired, but many appear to want Brandon out just as badly.  A U Petition at the University of Michigan, which can be signed by Michigan students and alumni, is calling for Brandon to be fired. It...
These Brady Hoke memes are setting the Internet on fire after another embarrassing Michigan loss.
Michigan coach Brady Hoke's hot seat is on fire. Not only is he coming under fire for the squad's 2-3 record this season, but more recently, Hoke has received a ton of criticism for his handling of what appeared to be a concussion suffered by starting QB Shane Morris. Today, an unlikely source called for a Hoke's firing: Michigan's student newspaper, The Michigan Daily....
Michigan head coach Brady Hoke released a statement Sunday night on quarterback Shane Morris' injury on Saturday against Minnesota. It looked apparent that Morris had a leg injury, but Hoke chose to keep the young sophomore QB in anyways. Some Yardbarker bloggers wrongly claimed that Morris walked with a gimp legged due to a concussion, but it is rather obvious that he had a...
Chris Clark is one of the best tight end recruits in America. The four-star 2015 recruit is the No. 2 tight end prospect and the No. 79 player in America, according to 24/7. Clark was committed to North Carolina, but in June, Clark flipped his commitment to Michigan. Since then, Michigan has started its 2014 season and has struggled mightily. The team is 2-3 — marking the first...
The incompetence of Michigan head football coach Brady Hoke may have taken the next step on Saturday. And in the process, it might cost Hoke his job with the Wolverines. This story is less about Michigan's embarrassing home loss to Minnesota on Saturday and more about his actions on the sideline during the loss. As you can see in the video above, Hoke and Michigan's coaching...
It's time for Brady Hoke to go. The Wolverines are getting beat at home, and not in close games against the nation's best teams. There home schedule was considered soft before the season started, but they have barely been competitive. If the poor product on the field is not enough maybe his disregard for the healthy and safety of his players should be cause.Either he wasn...
Brady Hoke and defensive coordinator Greg Mattison got into a bit a shouting match after the Wolverines took an interference from the sideline penalty earlier in today's game. From the looks of it that may have came from Mattison considering Hoke ever so politely told him to get his ass off the field. Mattison wasn't backing down though and gave it Brady right back. Probably...
MORE STORIES >>
College Football News

Delivered to your inbox

You'll also receive Yardbarker's daily Top 10, featuring the best sports stories from around the web. Customize your newsletter to get articles on your favorite sports and teams. And the best part? It's free!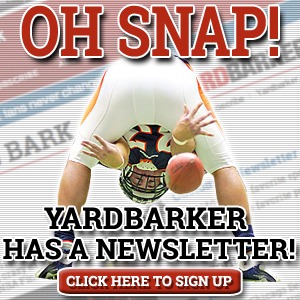 THE COLLEGE FOOTBALL HOT 10