The Georgia Bulldogs are in a precarious position, yet again, as they have the opportunity, for the second straight year, to put themselves in position to play for an SEC Championship—if they can beat Florida on Saturday. And folks, let me tell ya, given what I saw from that Georgia defense against Kentucky last night, that's looking like a mighty big 'if'. The Wildcats...
Boykin = Playmaker Free Agency looks like it's winding down for the Falcons. The Falcons didn't have the money to spend and quite possibly just didn't want to spend their money on who was available (or they are waiting in the wings to pick some up off the scrap heap). Over the next several weeks we will be amping up our draft coverage and one of the features I will be...
When cornerback Brandon Boykin began preparing for the NFL Draft, his fate took a less-than-ideal turn just weeks after playing his final collegiate game at the University of Georgia. He suffered a small fracture of his right leg on a punt return at the Senior Bowl, derailing his hopes of working out at the NFL Combine a few weeks later. Fortunately for Boykin, he didnt injure a...
It looks like the NFL scouts are getting an up close and personal look at former Georgia cornerback, Brandon Boykin and, so far, they like what they see: He showed dominant cover skills despite his size and was competitive throughout practice. He displayed outstanding quickness, explosive closing ability and rare recovery speed to deny double moves during the one-on-one...
Sheldon Dawson is rated a three-star prospect by Rivals and has suddenly become the name du jour around the recruiting world thanks to his re-entry into the prospect market. The long-time Memphis commitment began to waiver on his allegiance after the Tigers fired their head coach, Larry Porter, and the Bulldogs appear to be heavily in the mix for his services. According to Dawson...
Brandon Boykin hopes Georgia learned an important lesson from the Outback Bowl. ''We made a huge stride this year just coming from a 6-and-7 season last year, but at the same time, the great teams finish when they're supposed to,'' the Bulldogs cornerback said after the No. 18 Bulldogs lost 33-30 in triple overtime to No. 12 Michigan State on Monday. '&...
Click here to view the video on YouTube. Brandon Boykin of Georgia shakes-and-bakes his way 92 yards for a TD in the 2012 Outback Bowl.  Boykin was a beast all game, but his Bulldogs lost a thrilling 30-33 game to Michigan State in triple-overtime.  
 (Covering Dixie Like Mildew is the SWRT roundup of SEC news, with the occasional pesky Southern school from another conference.)  Could...
MORE STORIES >>
College Football News

Delivered to your inbox

You'll also receive Yardbarker's daily Top 10, featuring the best sports stories from around the web. Customize your newsletter to get articles on your favorite sports and teams. And the best part? It's free!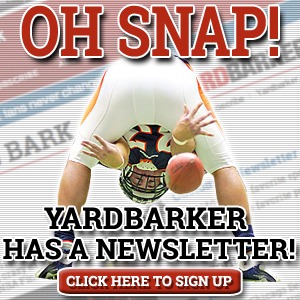 THE COLLEGE FOOTBALL HOT 10