With every year another dream comes to fruition, it seems, for Brandon Magee. First was playing Division I football and baseball at Arizona State. Then came signing a professional contract with the Boston Red Sox after he was drafted in June 2012. Less than a year later, Magee signed with the Dallas Cowboys as an undrafted free agent and later made his NFL debut with the Cleveland...
GLENDALE, Ariz. Every game of the preseason has become a statement game for Cowboys linebacker Brandon Magee. Every time I get out there, whether its against the Dolphins, the Raiders or the Cardinals in my home, its like, 'Whatchyall think now?'" said Magee, who had a team-high six tackles despite the Cardinals 12-7 win over the Cowboys on Saturday at University of...
Brandon Magee knows some pro football scouts are leery of his 5-foot-11 frame. He knows several websites are projecting him as a seventh-round NFL draft pick or an undrafted free agent. He knows the official time he ran in the 40 on Monday at the NFL Scouting Combine 4.74 seconds -- isnt going to help his cause, even if the stop-watch time read 4.66. But when youre blessed with...
Heading into the Arizona State State's Senior Day game this Saturday against Washington State, a lot of attention will be focused on Brandon Magee's last contest at Sun Devil Stadium. Whether it's having a career year as the team's top tackler with 83 stops or being a crucial leader in a time of transition the linebacker's contributions in 2012 have been invaluable.
TEMPE, Ariz. -- If you imagine the Arizona State defense as a human body, its easy to identify some key body parts. Linebacker Brandon Magee is the brain, calling plays, coordinating his teammates efforts and making sure everybody is on the same page. Alden Darby is the mouth, communicating every thought that enters his mind, from reads in the secondary to opinions on opponents...
TEMPE, Ariz. -- FOX Sports NEXT caught up with Arizona State senior linebacker Brandon Magee after practice on Wednesday to discuss bouncing back from the Sun Devils' loss at Missouri, Magee's personal performance and role as a leader, the team's upcoming opponent, and more.
Arizona State linebacker Brandon Magee has signed a contract to play for the Boston Red Sox, but will play for the Sun Devils during the 2012 football season. Magee is entering his fifth season with the football team and was a three-year letterman as on outfielder with the baseball team. He was drafted in the 23rd round of this year's baseball draft by the Red Sox. Magee twice...
TEMPE, Ariz. -- Arizona State's Brandon Magee agreed Thursday to a contract with the Boston Red Sox, who drafted the two-sport athlete in the 23rd round of the MLB draft last month, but the senior will not be leaving school and will complete his final year of eligibility with the ASU football program. Magee, who is entering his fifth season with the football team after redshirting...
You had to figure Brandon Magee's draft stock would slip after he blew out his Achilles' tendon. All things considered, a two-round drop for a guy who hasn't been on the field in more than a year and has a career .103 batting average at Arizona State doesn't seem bad. Magee was one of the more interesting names to pop up on the third day of the Major League Baseball...
With spring camp officially in the rearview mirror, the Arizona State football team can now look forward to August's fall camp. Perhaps no other player on the team is more excited for the arrival of two-a-days than senior linebacker Brandon Magee. After missing all of last year with an Achilles injury, a nearly fully recovered Magee is eager to lead the Sun Devils in 2012.
MORE STORIES >>
College Football News

Delivered to your inbox

You'll also receive Yardbarker's daily Top 10, featuring the best sports stories from around the web. Customize your newsletter to get articles on your favorite sports and teams. And the best part? It's free!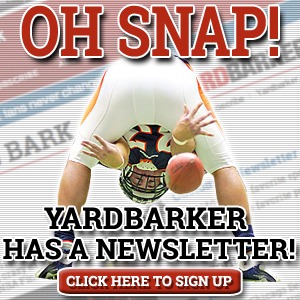 THE COLLEGE FOOTBALL HOT 10