The Temple football team probably knew it was going to miss Brandon McManus this season. It might not have known how much. Halfway through the season, the Owls have one field goal in six attempts and 10 extra points in 13 chances. In comparison, McManus made 30-of-39 field goals and converted 82-of-83 extra points his last two years as Temple's kicker.
This page is for the undrafted free agents signed by the Colts. You can also go to the Offseason Central page for the signings. Keep coming back on this page (bookmark it) to see who the Colts signed. Keep coming back for updates!!   Current Signings: Lanear Sampson -- Wide Receiver -- Baylor (APR 27) Daxton Swanson -- Cornerback -- Sam Houston State (APR 27) Brandon McManus ...
The Temple football team ended the 2012 season with a 38-20 loss to Syracuse on Friday. Listen to comments from head coach Steve Addazio, kicker Brandon McManus and running backs Matt Brown and Montel Harris after the Owls completed their return to the Big East with a 4-7 record.
Brandon McManus kicked a 29-yard field goal in overtime and Temple, which trailed for over 59 minutes Saturday, came from behind to beat Connecticut 17-14. Boston College transfer Montel Harris ran 30 times for 142 yards and a touchdown for the Owls (3-2, 2-0 Big East), who held UConn (3-4, 0-2) to two first-quarter touchdowns. The Huskies' Chad Christen missed four field goal...
Brandon McManus has been one of the most reliable and prolific kickers in Temple football history. So it was shocking when Temple's all-time leading field-goal kicker hit the right upright not once but twice in Saturday's 37-28 win over South Florida. Fortunately for the Owls and McManus, he didn't have to wait long to redeem himself.
Members of the Temple football team gathered at Ocean City's Music Pier Sunday to meet their fans, and a few took some time out for the media. Listen to QB Chris Coyer talk about preparing to play a full season, C Sean Boyle discuss being ready after two years off and K/P Brandon McManus recounting a 70-yard field goal make in practice.
Brandon McManus and Bernard Pierce were awarded Honorable Mention players of the week by the College Football Performance Awards this week, raising their combined total of mentions this season to 12. The awards come just a day after Temple handled Army, 42-14, to improve its record to 7-4.  McManus won his sixth straight mention as the kickoff specialist, and seventh overall this...
For the second consecutive week junior kicker/punter Brandon McManus and senior tight end Evan Rodriguez have been honored by the College Football Performance Awards. McManus was named the honorable mention kickoff specialist. McManus had five kickoffs for 350 yards a 70-yard average. The junior added a 32-yard field goal and three extra points in the Owls 24-21 victory over Miami...
Starting quarterback Chris Coyer, kicker/punter Brandon McManus and tight end Evan Rodriguez were named honorable mentions to the College Football Performance Awards national player of the week, the CFPAs announced today. Though the Owls lost to the Ohio Bobcats this week, the offense performed well, scoring 31 points after Coyer took over for Chester Stewart halfway through the...
Temple Owl kicker/punter Brandon McManus was one of 54 candidates for the Ray Guy Award, given annual to the nation's best collegiate punter, the school announced on Monday. McManus, a junior from Hatfield, Pa., is currently ranked number two in the country and number one in the Mid-American Conference in punting average. This is his first season handling the punting duties as...
MORE STORIES >>
College Football News

Delivered to your inbox

You'll also receive Yardbarker's daily Top 10, featuring the best sports stories from around the web. Customize your newsletter to get articles on your favorite sports and teams. And the best part? It's free!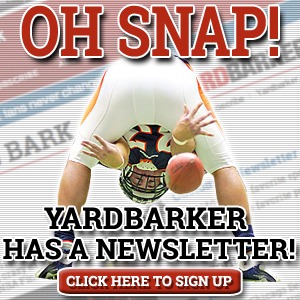 THE COLLEGE FOOTBALL HOT 10