Weeden is the undisputed backup in Dallas, if anything happens to Romo the man above will be taking over the reins. He's confident, but are you confident in him Cowboys Fans? Here is what he had to say via the Star-Telegram. "It'll be good to be out there with those guys," Weeden said. "We've got some great offensive weapons. I'm excited to be able to go out and compete...
Brandon Weeden wanted so badly to prove himself that he sometimes tried to do too much. The quarterback, who was released by the Browns then signed by the Cowboys, spoke about his time in Cleveland in an interview on SiriusXM NFL Radio over the weekend. "The regime that drafted me was out a year after I got there," Weeden said, "You never know the plans the group coming...
Former Browns quarterback Brandon Weeden signed a contract with the Dallas Cowboys on Monday, the team announced. Weeden was released March 12 by the Browns after being a first-round draft pick of the Browns (22nd overall) in 2012. Weeden was 5-15 as a starter for the Browns, but had one of his best games against the Cowboys in 2012 when the Browns lost in overtime, 23-20 to the...
This is the time of the year when grocery and liquor stores post their best sales since January for food and beer because football is back, baby. Try-outs are no longer the focus for NFL teams as they look towards another goal, the playoffs. There's no question that the ultimate destination is the Super Bowl, but 12 out of the 32 NFL squads must first qualify for the most highly...
Shooting clay pigeons is usually reserved for those hunting enthusiasts who'd like to work on improving their accuracy. Who says an NFL quarterback prospect can't benefit from the same thing? Former Oklahoma State quarterback Brandon Weeden gave it a try attempting to knock out a few clay pigeons which were moving through air at about 43 MPH. They also happen to be a...
Brandon Weeden just thought he was tired of hearing about his age last season when he was quarterbacking Oklahoma State. Weeden, a ripe old 28, hears about his age even more now that he's an NFL Draft prospect. The draft is all about measurables, and Weeden's age is one measure that some people can't get over. But they should. As Weeden himself told NewsOK.com'...
Brandon Weeden isn't your typical college quarterback. He's 28 years old and playing college football after a failed professional baseball career. At 28, Weeden is actually older than eight of the quarterbacks who will be starting in the NFL playoffs. He's also a married man, and his wife Melanie was in attendance for the Fiesta Bowl to cheer on her hubby. The reaction you...
For Brandon Weeden, all the interest in his age is starting to get old. The 28-year-old quarterback got a lot of Heisman Trophy chatter over the weekend when he threw for 423 yards and five touchdowns in Oklahoma State's victory over Texas Tech while Stanford's Andrew Luck and Boise State's Kellen Moore both lost for the first time this season. The second-ranked Cowboys...
For quarterback Brandon Weeden and No. 2 Oklahoma State, winning has become habit-forming. Even with increasing pressure as a chance for a national championship creeps closer to becoming a reality, Weeden says there's no reason for the Cowboys (10-0, 7-0 Big 12) to get out of their routine. Weeden said Monday that ''every day is kind of like Groundhog Day''...
Sad Boise State quarterback Kellen Moore looking sad. (Welcome to the fallout is SWRT's wrap-up of Saturday's action.)  And All My Dreams, Torn Asunder.  Boise State's hopes for a BCS title are blown to pieces in a loss to TCU 36-35. (CBS Sports) I'm outta Luck, outta love. Stanford's chances for a BCS title are shot as the Cardinal falls to Oregon...
MORE STORIES >>
College Football News

Delivered to your inbox

You'll also receive Yardbarker's daily Top 10, featuring the best sports stories from around the web. Customize your newsletter to get articles on your favorite sports and teams. And the best part? It's free!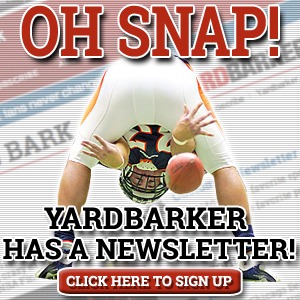 THE COLLEGE FOOTBALL HOT 10