Braxton Miller plans on returning to OSU in 2015, according to reports One of the most interesting situations to keep an eye on over the next couple of months is what happens with Ohio State QB Braxton Miller. The two-time Big Ten Offensive Player of the Year has missed all of 2014 due to a shoulder injury, and while he's been out, Buckeyes QB J.T. Barrett has established himself...
There have been many rumors floating around about Braxton Miller transferring, but that is not true. According to Albert Breer, Braxton Miller will return to Ohio State. @NFL_CFB: Amidst rumors, sources tell @AlbertBreer that Braxton Miller plans return to Ohio State Two sources close to Miller, however, say the quarterback's plan for now is to […] The post Braxton Miller will...
Twitter/@criscarter80 There is plenty of college football left this season, but once we hit the off-season, one of the most intriguing story lines in the sport will definitely be the quarterback situation at Ohio State. Senior Braxton Miller has been a fantastic Buckeye, and was expected to be a Heisman contender before going down with an injury. In his stead, freshman J.T. Barrett...
At the beginning of the college football season, the Ohio State Buckeyes got some very unpleasant news when it was announced that Braxton Miller was out for the season. Buckeyes fans did not know what would happen to their offense or team with their leader gone for the season. Redshirt freshman J.T. Barrett, who stepped in for Miller, was a highly touted recruit out of Texas but...
Ohio State freshman quarterback J.T. Barrett has played so well this season, that Urban Meyer thinks he should be a Heisman candidate. His surprising makes the Braxton Miller situation in Columbus extremely interesting. While the star senior says that he will be back for the Buckeyes next year, does he feel the same now after Barrett's emergence? Miller could always declare for...
Michigan State senior linebacker Taiwan Jones may have given Ohio State some bulletin board material earlier this week when he threw shade at injured Buckeyes star Braxton Miller. Miller, who was a Heisman Trophy candidate at the beginning of the season, injured his shoulder back in August and has missed the entire season. Freshman quarterback...Read More
Ohio State quarterback Braxton Miller has been sidelined this season due to a shoulder injury, but in his place J.T. Barrett has played extremely well. Should Miller come back for his senior season like he has said he is going to Urban Meyer may have a tough decision on his hands.If you ask Michigan State linebacker Taiwan Jones the decision is a no-brainer--Barrett is the better...
Thomas J. Russo-USA TODAY Sports Ohio State quarterback Braxton Miller won't be suiting up Saturday against Michigan State Saturday, but that hasn't stopped him from trash talking.  His medium of choice is Twitter and his target is Michigan State linebacker Taiwan Jones.  Miller is out for the year with a bum knee. Earlier this week, Jones told the media that he thinks current...
Get ready for The Return, Ohio State fans.  Braxton Miller, who was forced to miss the 2014 season when he re-injured his shoulder this past summer, has his eyes set on the 2015 campaign. Miller, who underwent surgery on his torn labrum in late August, will graduate this December and is set on attending graduate school and playing for the Buckeyes next fall.  Since his surgery...
MORE STORIES >>
College Football News

Delivered to your inbox

You'll also receive Yardbarker's daily Top 10, featuring the best sports stories from around the web. Customize your newsletter to get articles on your favorite sports and teams. And the best part? It's free!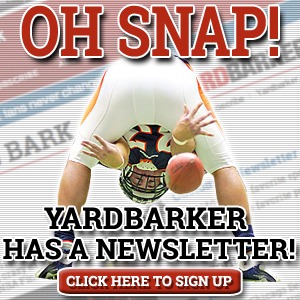 THE COLLEGE FOOTBALL HOT 10