With Ohio State idle for the second time in four weeks and no game this Saturday, you need something to talk about, right? So, let's talk about quarterbacks. Specifically, Ohio State's two quarterbacks, Braxton Miller and J.T. Barrett. Miller, a senior, is out for the season after re-injuring his right […]
After Ohio State self-destructed against Virginia Tech, it appeared that Braxton Miller's presence was more than just lacking,it was a huge void that could possibly make the 2014 season a long one. But after regrouping, the Buckeyes coaching staff came up with a striking resolution that many have already begun to understand: J.T.Barrett is not Braxton Miller. He's far from...
Six weeks through the college football season, so many storylines have developed that we've almost forgotten about Ohio State quarterback Braxton Miller, who is out for the season with a shoulder injury. Miller took to Instagram this afternoon to share some great news with his fans, posting a picture to show that he is no longer in a sling.   Loading Finally out of the sling...
The Ohio State football team will go into their second bye week of the season with a record of 4-1 after their dismantling of Maryland last Saturday. There isn't a lot I can say about the game that hasn't already been said. J.T. Barrett continues to develop, new offensive weapons are beginning to emerge, and the secondary still has glaring flaws etc, ect. Since the Buckeyes are...
Ohio State football coach Urban Meyer says Braxton Miller is OSU's quarterback in 2015. I appreciate the loyalty, Coach, but I hope it's just "coach speak." There is no way Miller should take another snap as a quarterback for OSU — starting or otherwise. I'm knocking the injury-prone Miller. Yes, he was a leading Heisman candidate going into the season until he tore a...
The Big Ten conference had the spotlight last night with three games on National TV networks.  With the world, and more importantly the College Football Playoff Selection Committee, watching, the Big Ten's hope to make the inaugural College Football Playoff probably ended in Week Two.  Oregon scored 28 in the second half to pull away from Michigan State 46-27.  Michigan is playing...
Since losing Braxton Miller to season-ending shoulder surgery, Ohio State has seen its national championship odds drop from 12-to-1 to 50-to-1 in some Las Vegas sportsbooks. Michigan State has become the clear-cut Big Ten favorite in the minds of most, too.  One college football coach disagrees with the dropping of expectations for the Miller-less Buckeyes.  In a report for CBS...
Ohio State quarterback Braxton Miller will miss the 2014 season after reinjuring his shoulder, but the Heisman candidate said he intends to return to Columbus next season to finish out his last year of eligibility as a fifth-year senior. "I love Ohio State and Buckeye nation, and my goal is to come back from this injury stronger and better than ever," Miller said in a statement...
Through nearly three full seasons as the starting quarterback at Ohio State, Braxton Miller has thrown for 5,292 yards and 52 touchdowns. He completed 63 percent of his passes and was the 14th-highest rated quarterback in the country in 2013.  According to one anonymous coach, though, the Buckeyes' senior Heisman contender doesn't scare opposing teams as a passer.  Will #4...
In Ohio State's football facility, the Woody Hayes Athletic Center, there are boards on the wall that list the physical accomplishments of the current players. Since the players work out so much, they make it a form of a competition, seeing who has the fastest 40-yard dash time, the most number of reps on the bench press, etc.  On the board that lists the top 40 times, Braxton...
MORE STORIES >>
College Football News

Delivered to your inbox

You'll also receive Yardbarker's daily Top 10, featuring the best sports stories from around the web. Customize your newsletter to get articles on your favorite sports and teams. And the best part? It's free!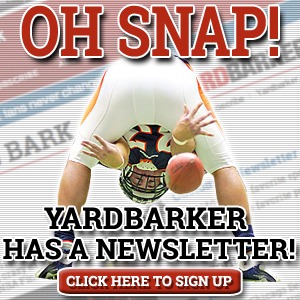 THE COLLEGE FOOTBALL HOT 10