Getty Image Rumors swirled last evening of a serious injury to Ohio State quarterback Braxton Miller. An injury that could keep him out for the season. Things died down into the night with no real confirmation, nothing real specific other than "shoulder injury." But then this morning, Ohio State denied all media requests, kept players and coaches away from reporters. Then ESPN...
Ohio State quarterback Braxton Miller will not play in the 2014 season after reinjuring his shoulder. BREAKING: Ohio St. QB Braxton Miller out for 2014 season after reinjuring shoulder. (via ESPN & media reports) pic.twitter.com/9A94HZC8g7 — SportsCenter (@SportsCenter) August 19, 2014 What a horrible blow for OSU.  I can't imagine them competing for a national title now...
Ohio State Buckeyes quarterback Braxton Miller reinjured his right, throwing shoulder during practice Monday. According to Gil Brandt of NFL.com, the Buckeyes expect Miller to miss the entire 2014 college football season. Was told Ohio State expecting Braxton Miller to miss entire season. Release expected later today. Big blow for that team. — Gil Brandt (@Gil_Brandt) August […]
If Ohio State's football season rests on the shoulders of Heisman Trophy candidate Braxton Miller, Buckeyes fans could be upset. The star quarterback reportedly reinjured his right shoulder in practice Monday, putting his playing status for the coming season in doubt, according to The Columbus Dispatch. The report indicates that redshirt freshman J.T. Barnett will […] The post...
The Ohio State Buckeyes could be without senior quarterback Braxton Miller this season. Miller was considered a Heisman Trophy candidate but after he re-injured his shoulder in practice on Monday afternoon his status for the 2014 season is in question. Neither Urban Meyer or Ohio State has confirmed reports from the Columbus Dispatch about the status of Miller. If Miller is unable...
Braxton Miller, Ohio State's senior quarterback and a Heisman Trophy candidate, has re-injured his right shoulder and may miss the 2014 season, according to The Columbus Dispatch. Miller had surgery on the shoulder in February after injuring it on the first drive of Ohio State's Orange Bowl loss to Clemson. He has complained of soreness during preseason camp. PredictionMachine...
Braxton Miller. Via Bleacher Report. Tim May of The Columbus Dispatch is reporting that Ohio State starting quarterback Braxton Miller has suffered an injury to his right shoulder (his throwing shoulder) during fall practice on Monday. It's the same shoulder Miller injured during the 2014 Sugar Bowl. Miller tweeted earlier today that Miller's 2014 season might be "in...
Tim May of the Columbus Dispatch is reporting on Monday night that Ohio State quarterback Braxton Miller hurt his throwing shoulder in practice and could be done for the season. Sources tell me @BraxtonMiller5 reinjured right shoulder in practice this p.m., in jeopardy for season. Check http://t.co/x610tIPgiy — Tim May (@TIM_MAYsports) August 19, 2014 Miller had shoulder surgery...
Ohio State fans – there may be a bit of bad news coming this week for the Buckeyes. According to Tim May of the Columbus Dispatch, star quarterback Braxton Miller, considered a Heisman Trophy favorite, re-injured his right shoulder at practice on Monday. May also claimed that Miller's season could be "in jeopardy." Sources tell me @BraxtonMiller5 reinjured right shoulder...
Cleaning out the reporter's notebook from another day on the Ohio State football beat…  The always interesting Tom Herman, Ohio State's offensive coordinator and quarterbacks coach, told us quarterback Braxton Miller did not throw in the morning practice but ran the offense as they concentrated on the running game. He agreed with a questioner who asked if the reps have been...
MORE STORIES >>
College Football News

Delivered to your inbox

You'll also receive Yardbarker's daily Top 10, featuring the best sports stories from around the web. Customize your newsletter to get articles on your favorite sports and teams. And the best part? It's free!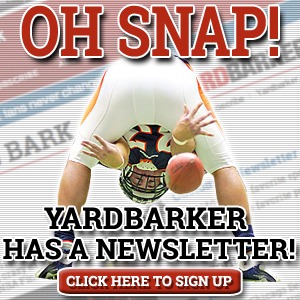 THE COLLEGE FOOTBALL HOT 10