As the South Carolina Gamecocks take the field for the first time this late summer season in preparation for the fall pursuit of SEC glory, the biggest question mark for the squad is the secondary. The Gamecocks got a boost of good news as freshman cornerbacks Wesley Green and Chris Lammons were granted admission earlier in the week. Having these two will be a huge plus this season...
Let's be honest, the whole targeting issue in college football has been a joke since its inception this season. It's not that the rule itself is useless, it's the referees who seem to be incapable of ruling what is and is not considered targeting. Just earlier today South Carolina's Brison Williams was ejected for it but after the replay clearly displayed Williams hitting...
South Carolina's Brison Williams became the latest player to be flagged for college football's new targeting penalty early Saturday, when he delivered this hit to Central Florida wide receiver Jeff Godfrey: If nothing else, this new rule is giving us some great player reactions. Look at how despondent Williams' Gamecocks teammates are, knowing what the flag is for and...
A couple of South Carolina Gamecocks defensive assistant football coaches got into a heated altercation on the sidelines during Saturday's game against Georgia. It happened early in the third quarter as linebackers coach Kirk Botkin and defensive line coach Deke Adams appeared to be having a disagreement over strategy. Botkin suddenly got into Adams' face, and the...
Today there are 44 days until kickoff. 44 is the number lettermen returning.  The Gamecocks awarded 63 letters last year, so there is a healthy number returning.  The Gamecocks return 6 starters on offense which is about average, and 5 on defense which seems a bit low.  All of the projected defensive starters have extensive experience.  Clowney and Jerideau aren't considered...
NOTE: This South Carolina Gamecocks blog is counting down the Top 20 projected players on South Carolina's 2012 team. Players are measured on overall importance and expected productivity during the upcoming season.The basics: Anyone that knows Gamecocks football, will tell you the play of the secondary in 2012 is crucial for success. Especially when talking about the depth and...
 (Covering Dixie Like Mildew is the SWRT roundup of SEC news, with the occasional pesky Southern school from another conference.) Williams...
  It's barely the offseason for the South Carolina Gamecocks and another football player has been suspended indefinitely. Freshman safety Brison Williams has been suspended indefinitely from the USC football team. Steve Spurrier had this to say regarding Williams: "Brison Williams has been suspended for conduct detrimental to the South Carolina football team." ...
The University of South Carolina announced today that freshman safety Brison Williams has been suspended indefinitely from the football team. "Brison Williams has been suspended for conduct detrimental to the South Carolina football team," coach Steve Spurrier said in a statement.Williams played in eight games in 2011 and had 11 tackles.No other details have come to light associated...
MORE STORIES >>
College Football News

Delivered to your inbox

You'll also receive Yardbarker's daily Top 10, featuring the best sports stories from around the web. Customize your newsletter to get articles on your favorite sports and teams. And the best part? It's free!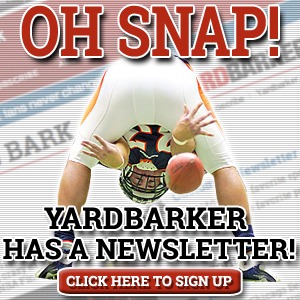 THE COLLEGE FOOTBALL HOT 10