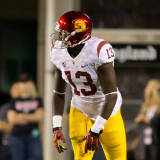 Former USC tight end Bryce Dixon was arrested Tuesday for an alleged carjacking nearby the USC campus in Los Angeles. According to reports, Dixon is being held on $100,000 bail after being charged with the felony. No other details about the case were released. Dixon, who is from Oxnard, Calif., caught 14 passes for 198 yards and four touchdowns as a freshman in 2014. He was expelled...
Bryce Dixon last week was re-admitted to USC thanks to a court order, but his football plans were still on hold.But there's a new development in Dixon's quest to get back on the team, according to Michael Lev at The Orange County Register."Dixon on Monday will ask L.A. County Superior Court Judge Robert H. O'Brien to stay the school's decision to keep the sophomore tight end off...
Mere months after it was announced that he was "no longer enrolled" at the university, it now appears that a path has been cleared for former Trojans tight end Bryce Dixon to return to USC and its football program. Per Michael Lev of the Orange County Register, Los Angeles Superior Court Judge Robert H. O'Brien has ordered a stay of Dixon's expulsion from USC. What happens next on...
Bryce Dixon USC football is stacked at almost every significant position on the field but they do lack depth at one key position, tight end. However, that could all change very shortly. Thanks to a tweet from former tight end Bryce Dixon, Trojan fans have reason to believe that an influx of talent could be on the way to USC. On Thursday afternoon, Dixon tweeted a simple phrase ...
There was plenty of mystery surrounding the absence of Bryce Dixon at the start of spring camp.USC's Steve Sarkisian wouldn't comment on his whereabouts, but the school ultimately announced he was no longer part of the team. It's been a month since Dixon publicly spoke about his desire to return to the team, though there's been no indication that he'll be given a chance to return...
The curious case of Bryce Dixon took a twist this week when he told Lindsey Thiry at the Los Angeles Times that he wants to come back to USC.Thiry reports that Dixon was attending USC's Rising Stars Camp and confirmed that Dixon met with school officials about the cancellation of his scholarship. Dixon was a no-show during spring camp, and his whereabouts were kept under wraps by...
USC announced last week that Bryce Dixon no longer was enrolled at the school. The talented freshman tight end was suspended from the team, but the reason for his whereabouts remained a mystery. Now that it's over, the Trojans have to do something about their depth -- or lack thereof -- at tight end. Alicia de Artola at Reign of Troy breaks it down."As it stands, the Trojans have...
Bryce Dixon In typical USC football fashion, the Trojans are in the news long before the season even starts. This time, it is not necessarily good news either. It was recently reported that incoming sophomore tight end Bryce Dixon is no longer enrolled at the University of Southern California. Dixon was a rising star for the young Trojans and had established a role for himself near...
The USC Trojans have lost some tight end depth, with news that their most talented tight end, Bryce Dixon, is no longer enrolled at the university. USC confirmed the news in a brief statement on their official website. "Freshman tight end Bryce Dixon is no longer enrolled at the University of Southern California, the school announced today," the statement read. "Dixon caught 14 passes...
Going into this season, the USC football team is a team that many experts and picking to rise up the top 25 rankings as the season progresses. In order for these predictions to come true, it will require a number of players rise above their preseason expectations of play and become factors for a team that still lacks depth due to past scholarship restrictions. With established talent...
MORE STORIES >>
College Football News

Delivered to your inbox

You'll also receive Yardbarker's daily Top 10, featuring the best sports stories from around the web. Customize your newsletter to get articles on your favorite sports and teams. And the best part? It's free!
THE COLLEGE FOOTBALL HOT 10