Georgia tailback Carlton Thomas has decided to transfer. Bulldogs coach Mark Richt announced Tuesday that Thomas has decided to switch schools for his senior season. Richt said he and Thomas discussed the decision and that he wishes him the best. A native of Frostproof, Fla., Thomas has played in 27 career games including two starts. His career totals include 159 carries for 725...
Crowell in less troubled days. Don't expect to hear much from Georgia troubled tailbacks Isaiah Crowell and Carlton Thomas in regards to the upcoming SEC championship game against LSU, or on any other subject for that matter. Georgia has make them off-limits to the media, according to The Macon Telegraph. "We will continue to have extensive coverage this week,...
By Vincent Thomas ATLANTA -- It was dire times in Athens back in early September. Georgia opened its season with back-to-back losses to Boise State and South Carolina. The season looked bleak. Coach Mark Richt didn't want to lose his team that early, so he had to start in with rhetoric. "When we were 0-2 a lot of people within our program wanted to say, 'Hey, we can...
Carlton Thomas ran tough yesterday, didn't he? I mean I've given this kid a lot of flack over the last couple of seasons for his lack of size, north-south ability, and Bobo's penchant for using him in predictable situations, but he came up big last night with 127-yards and zero fumbles. Thomas has truly grown as a tailback this season and the start of that growth seems...
Not only did he run for well over 100 yards, not only did he lay some terrific blocks (the one he threw on Figgins' TD catch made me cheer), but he also bested the OBC in a battle of wits: … The day started with South Carolina defeating Florida 17-12, which temporarily lifted the Gamecocks into a first-place tie with the Dogs. That was followed by this half-jab from Gamecocks...
It seems the entire running back unit for the University of Georgia has been suspended for failing a drug test. That's right Isaiah Crowell, Carlton Thomas and Ken Malcolme are all out for Saturday's game…against New Mexico State. These drug test results come two and a half days after a big victory over rival Florida. Convenient, right?  To top it off,with Richard Samuel...
Wow. As if Georgia needed any more issues at the running back spot, there's a new development that will severely deplete the Bulldogs' depth at that very position. According to an official school release, running backs Carlton Thomas, freshman Isaiah Crowell (pictured), and Ken Malcome have all been suspended for this Saturday's game against New Mexico State for…
((ht: georgiadogs.com))According to a published report, which partially confirms something that we at OSG Sports reported this past weekend, the University of Georgia has suspended 3 running backs for their upcoming game against New Mexico State. Freshman running back Isiah Crowell and backups Carlton Thomas and Ken Malcome will be the three sitting out.Head coach Mark Richt released...
Georgia Bulldogs running backs Isaiah Crowell, Carlton Thomas and Ken Malcome will be suspended for the Bulldogs' game against New Mexico State game on Saturday, coach Mark Richt confirmed.
MORE STORIES >>
College Football News

Delivered to your inbox

You'll also receive Yardbarker's daily Top 10, featuring the best sports stories from around the web. Customize your newsletter to get articles on your favorite sports and teams. And the best part? It's free!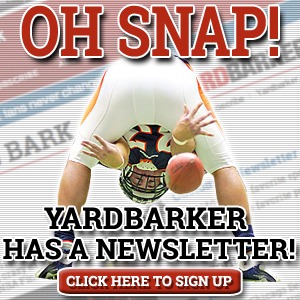 THE COLLEGE FOOTBALL HOT 10