The biggest recruiting trip Kevin Sumlin and his staff took last winter did not involve any five-star prospect. Some sites had once listed the guy as a three-star prospect, others had him as a four-star, but Sumlin's Texas A&M staff was way past any of that. They knew they were dealing with a sure-fire starter and likely All-American talent. That's why the Aggies head...
In week five of the college football season, the Scouting Spotlight is fixated on two high profile senior prospects in Arkansas DE Trey Flowers and Texas A&M LT Cedric Ogbuehi. Ogbuehi wins the talent advantage and has his sights set on being the third Aggies' blindside protector in as many years to earn a top five overall draft selection. With that being said, Flowers is a...
A ninth-grade teacher at Allen High School asked the class to write down goals. Cedric Ogbuehi wrote down two. 1) Drive a nice car. 2) Play football for the Texas Longhorns. He's not even halfway there. His used Chrysler 300 doesn't exactly sparkle. And Johnny Manziel wasn't the only Texas A&M star Mack Brown didn't want. Ogbuehi was "fat and sloppy...
First reported by Bruce Feldman, foxsports.com, Texas A&M paid $50,000 plus to get their 6-foot-5, 300-pound offensive tackle back for another season.  Ogbuehi had been a three-year starter and was weighing his options for the NFL Draft and forgoing his final season of eligibility.  Ogbuehi had submitted his name to the NFL to get an evaluation on his draft stock, and he received proje...
HOOVER, Ala. -- Score one for the continually evolving realm of nutrition. At 6-foot-5 and 300 pounds, Texas A&M left tackle Cedric Ogbuehi may be the most svelte man to block out the sun you'll ever see. And when viewing the senior lineman sitting in a chair -- while propped up on a makeshift stage -- it's still hard to imagine him stifling the progress of a mammoth...
Sure, we still haven't run our recap of the 2014 NFL draft yet (it's coming tomorrow, I promise) and the "experts" predictions this year were an unmitigated disaster, but do you think for one second that's stopping Sports Illustrated from releasing their 2015 Mock Draft? Of course not...and here it is.In honor of all the Nostradamus wannabes running around at...
Texas A&M will have quite a task on its hands next year as it looks to maintain a great deal of football success following the departures of Johnny Manziel and Mike Evans to the NFL. Today, Kevin Sumlin received some big news: offensive tackle Cedric Ogbuehi, who was projected to be a first-round pick in May's NFL Draft, announced that he will be remaining in school: I am...
MORE STORIES >>
College Football News

Delivered to your inbox

You'll also receive Yardbarker's daily Top 10, featuring the best sports stories from around the web. Customize your newsletter to get articles on your favorite sports and teams. And the best part? It's free!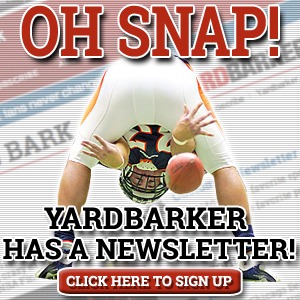 THE COLLEGE FOOTBALL HOT 10