Chandler Harnish was once known as the greatest quarterback in NIU Huskies history. (Well, before current NIU QB Jordan Lynch breaks all the Chandler Harnish reords) Then he was taken by the Indianapolis Colts with the exact last pick of the 2012 NFL Draft, thus Chandler Harnish was better known as "Mr. Irrelevant." Now Chandler Harnish is a co-star with NFL on FOX sideline reporter...
(Update: the Indianapolis Colts have selected NIU quarterback Chandler Harnish with the final pick of the 2012 NFL Draft. So the Colts bookend the draft, with QBs) Northern Illinois University is kind of known as the mid-major version of "Tailback U." The DeKalb, IL institution has produced some of the most electric runners (LeShon Johnson, Michael Turner, Garrett Wolfe and Chad...
Northern Illinois quarterback Chandler Harnish's ankle was hurting. Even worse, Arkansas State had a 13-point lead. To an outsider, the Huskies looked like they were in trouble. But NIU coach Dave Doeren knew his team was right where it needed to be. The Huskies' eight-game winning streak had been built on overcoming bad situations just like this one. ''We just...
Northern Illinois coach Dave Doeren is a huge fan of his quarterback Chandler Harnish, who has been one of country's top dual-threats under center. There's no wonder why. He's the top rushing quarterback in the Football Bowl Subdivision, averaging more than 106 yards per game. He's also thrown for 2,942 yards, 26 touchdowns and just five interceptions. But that...
Your NIU Huskies are MAC champions for the first time since 1983, and they did it in dramatic style. NIU improved to 10-3 and finished an up and down season with a tremendous high- winning their first conference title game in the last three attempts. The very definition of the extremely tired cliche "tale of two halves," Ohio won the first half 20-0, but NIU beat the Bobcats...
Northern Illinois quarterback Chandler Harnish is a born leader on the field and a pretty modest guy for someone who led the Huskies to a 7-1 MAC West record, 9-3 overall.
Northern Illinois quarterback Chandler Harnish has been named the winner of the Mid-American Conference's Vern Smith Leadership Award, which is presented annually to the MAC's top football player, the league office announced Wednesday. Mid-American Conference head coaches voted on the award and on the league's all-conference team, which features nine Huskies in all, four...
Chandler Harnish ran for 148 yards, including a 68-yard touchdown, and threw a 54-yard touchdown pass as Northern Illinois wrapped up a spot in the Mid-American Conference championship game by beating Eastern Michigan 18-12 on Friday. The Huskies (9-3, 7-1) clinched a share of the MAC West title, and because they beat Toledo 63-60 on Nov. 1, they own the tiebreaker and have earned...
Chandler Harnish threw for 294 yards and two touchdowns and ran for 151 yards and another score to lead Northern Illinois to a 45-14 win over Bowling Green on Tuesday night. Northern Illinois (7-3, 5-1 Mid-American Conference) had 283 yards rushing and finished with 623 total yards in its fifth consecutive victory. The Huskies remained tied with Toledo for first place in the MAC...
Chandler Harnish threw a 4-yard strike to Perez Ashford with 19 seconds left for his sixth touchdown pass of the game, lifting Northern Illinois to a wild 63-60 victory over Toledo on Tuesday night. The Huskies and Rockets combined for 1,121 yards of offense and a Mid-American Conference-record 17 touchdowns in the second-highest scoring game in league history.
MORE STORIES >>
College Football News

Delivered to your inbox

You'll also receive Yardbarker's daily Top 10, featuring the best sports stories from around the web. Customize your newsletter to get articles on your favorite sports and teams. And the best part? It's free!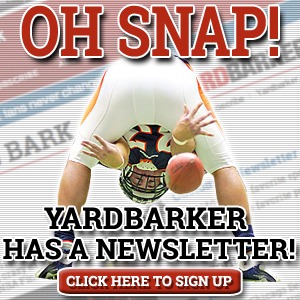 THE COLLEGE FOOTBALL HOT 10