Kansas State defeated Texas today 23-0, giving the Longhorns another tough loss to Charlie Strong's first season. While most wouldn't put the Wildcats on the same level as the Longhorns historically, Bill Snyder's club has dominated Texas as of late. KSU now owns a 6-1 record against the Longhorns dating back to 2006. Texas won last year's game 31-21, and it was its first...
Early in the day Wednesday high school recruits from all over the country clamored to get a copy of their best highlight tape in the mail to the Texas Longhorns. While Charlie Strong's team is showing promise that has nothing to do with it. No, they want to play for a school that is going to hand them $5K for the use of their likeness for marketing and merchandise purposes.If...
Texas coach Charlie Strong won't celebrate a moral victory, but the first-year coach has to be encouraged with the play of quarterback Tyrone...
Earlier today, Texas head coach Charlie Strong admitted that the Longhorns will have to play "above" their heads if the squad wants to take down Baylor on Saturday. While a Texas win would be a huge upset, one Longhorns player wants the Bears to remember their historical place in college football. According to Longhorns WR John Harris, the fact that Baylor is playing well is...
Back in 2005, when Texas was on its way to a BCS National Championship win, and Baylor was 2-6 in Big 12 play, the notion that the Longhorns would ever openly admit to being outclassed by the Bears on paper probably seemed silly. Well, not even a decade later, that is where the college football world has gone. Charlie Strong had a press conference this afternoon, and admitted that...
Charlie Strong hasn't been too successful in getting results on the field during his first season at Texas, with the Longhorns 1-2, but the new head man in Austin has been as good as anyone at enforcing discipline.  Earlier this week, Strong dismissed offensive tackle Kennedy Estelle from the program, increasing the number of players he's kicked off the team to nine.  The NFL...
Even before the Texas Longhorns-UCLA Bruins game got underway, there was plenty of action in AT&T Stadium. As rules expert Mike Pereira explained above, when UCLA won the coin toss and chose to defer that gave Texas the option to kick, receive, or choose a goal to defend. Texas chose to kickoff to start the […]
The Texas Longhorns are having just an absolutely brutal year. Between all the players getting kicked off the team, suspended and David Ash's injury, things are going terribly. Things only got worse against UCLA on Saturday night when Texas elected to kickoff twice. UCLA won the toss and deferred and then Texas chose to kickoff […] The post Texas Botched The Coin Toss, Will Kickoff...
Charlie Strong is so old school that it is kind of annoying. Strong has committed to changing the Texas football culture in the wake of Mack Brown's departure, and that has resulted in him doing stuff like making his players wear solid white helmets during practice. According to Anward Richardson of OrangeBloods.com, Strong has removed […]
Charlie Strong has changed the routines and raised the bar at Texas, and the Longhorns are noticing. Strong wants his players to be tough, to trust one another and to come together.  Looking for a way to motivate his new program, ESPN is reporting that Strong has his players walking a half mile to practices and has banned them from throwing up the traditional "hook 'em horns"...
MORE STORIES >>
College Football News

Delivered to your inbox

You'll also receive Yardbarker's daily Top 10, featuring the best sports stories from around the web. Customize your newsletter to get articles on your favorite sports and teams. And the best part? It's free!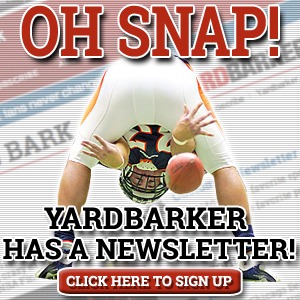 THE COLLEGE FOOTBALL HOT 10