The real betting guide returns after an unplanned hiatus. Week 6 Recap Alex's Week 6 Record: 6-2 Alex's Overall Record: 37-43 Adam's Week 6 Record: 3-4 Adam's Overall Record: 13-16 CQ Readers' Week 6 Record: 3-3 CQ Readers' Overall Record: 19-19 Apologies to our readers for the failure to publish Week 7's guide. Hopefully you put the house down on Cal or Syracuse. Hoosier...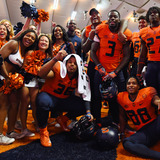 Even before Saturday's huge slate of games had begun to commence, we knew college football Week 7 was offering something unique.It started Friday night when both Syracuse and Cal knocked off Clemson and Washington State, respectively. That's the No. 2 and No. 7 teams in the nation saying goodbye to their undefeated records. And let's be honest, nobody saw either of these upsets coming...
Tremendous statements were made in some huge games during college football Week 5, from which reverberations will be felt the rest of the season.Those who were lucky enough to stay up late for a special Friday Pac-12 after dark matchup between USC and Washington State witnessed the birth of something special for the minimally touted Cougars. Earlier in the evening, Miami made a statement...
Texas students will vote on Wednesday to decide whether they want to bring back the rivalry football game with Texas A&M.The two schools played in football every year from 1915-2011, but that ended after A&M joined the SEC. There has been chatter about bringing the rivalry game back. Now the UT-Austin's student body president and vice president have set up a vote to see whether...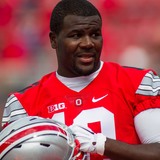 Cardale Jones sent an interesting tweet while watching Ohio State play on Saturday.Jones, like many Buckeyes fans and former players, was frustrated watching the offense sputter against Oklahoma. He tweeted that Ohio State needed "that magical pixie dust" on offense. He also tagged Tom Herman in his tweet. Some could interpret that as Jones defending Herman against Urban Meyer.After...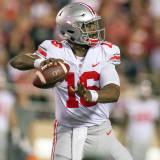 There's no spectacle to compare to the weekly drama of collegiate sports, and we've got some tremendous games on the slate in college football Week 2.The big-ticket attractions are the handful of games between top teams, such as Auburn going up against Clemson and Stanford heading into USC territory. Oh, and we can't forget about Oklahoma and Ohio State.Of course, this early in the...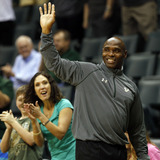 Charlie Strong met with the judge who rebuked him in court last week, and the meeting apparently went well.Last week a judge in Tampa had harsh words for a University of South Florida player who was charged with sexual battery. The judge was also very critical of the program's new head coach, Strong, because another one of the program's players was recently involved in a road rage...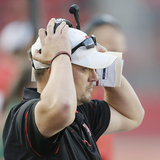 Tom Herman has taken over a Texas program that has been among the most disappointing in college football for the better part of the past seven years, and the struggles have clearly had an impact on the recruiting trail.As Geoff Ketchum of OrangeBloods.com noted Wednesday, the Longhorns failed to sign any of the top 10 recruits in the state of Texas on National Signing Day for the...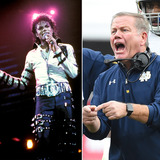 Here we are. The final week of the college football regular season has come and gone, and we're now staring down a holiday season full of conference championships, bowl games, and setting price alerts on Kayak for flights to wherever your team happens to be playing in December or January. But don't get lost in your dreams of warm postseason trips to Florida or California just yet...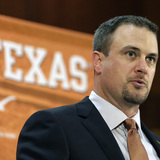 Tom Herman truly isn't lacking for either confidence or noteworthy quotes. During his introductory press conference as the new head coach of the Texas Longhorns, Tom Herman tossed out the quote of the month, directing a good amount of shade in Charlie Strong's general direction. Tom Herman was asked about the pressure Charlie Strong always referenced. Herman said pressure occurs...
MORE STORIES >>
College Football News

Delivered to your inbox

You'll also receive Yardbarker's daily Top 10, featuring the best sports stories from around the web. Customize your newsletter to get articles on your favorite sports and teams. And the best part? It's free!
THE COLLEGE FOOTBALL HOT 10