We're just going to go ahead and assume Charlie Strong isn't superstitious, because the bold prediction he just made might make those who are a little queasy. Speaking to ESPN.com, Charlie Strong said a five-loss season "will never happen in this program again." "I told the coaching staff it's on us," Strong told Max Olson. "We were sitting here at 3-5 and I said we should not be...
When Charlie Strong was hired this past offseason, most Texas fans (reluctantly) realized they'd need to be patient with a new regime coming into Austin. While the 2014 campaign didn't get off to a great start, the Longhorns have rebounded, winning four of their last five games to become bowl eligible despite an extremely difficult schedule. Monday, at his weekly press conference...
Now that Texas is bowl eligible the possibility of a matchup against Texas A&M in the postseason is a real possibility. Just don't talk about that to Texas head coach Charlie Strong, who is busy focusing on a Thanksgiving game against TCU. "We just need to play well in this next game and then if it works out it works out," Strong said. "We got to go play well this next game because...
Texas will be wearing a slightly different helmet this evening against Oklahoma State.  Charlie Strong's team will be sporting their normal white helmets, but the Longhorn logo will be a new, shiny metallic decal.  Check it out:  #Longhorns will take the field tonight with new-look, metallic decals on helmets. pic.twitter.com/OJKP2iDUrQ — Longhorn_FB (@Longhorn_FB) November...
It's been a tough year for the Texas Longhorns and Charlie Strong but they are starting to make headway and after a 33-16 win over #23 West Virginia he went crowd surfing in the locker room. These guys love the their Head Coach! #Hook'em A video posted by Ephraim (@coachbanda) on Nov 11, 2014 at 4:14pm PST
Charlie Strong posted the biggest win of his Texas coaching career Saturday with a 33-16 victory over ranked West Virginia, and he celebrated by doing a little crowd surfing in the Longhorns' locker room. Strong has gained a reputation for being a disciplinarian at Texas — he wouldn't let his players wear the Longhorns logo...Read More
When you think of Texas Longhorns head coach Charlie Strong you don't think loose, goofy, or a little crazy. Yes, the man does smile for the camera with fans or during photo-ops, but for the most part Strong is stoic and serious. However, it has been a hard year for the Longhorns with the injuries, suspensions, and growing pains as the Strong Era moves in and the remnants of...
Even before the Texas Longhorns-UCLA Bruins game got underway, there was plenty of action in AT&T Stadium. As rules expert Mike Pereira explained above, when UCLA won the coin toss and chose to defer that gave Texas the option to kick, receive, or choose a goal to defend. Texas chose to kickoff to start the […]
Charlie Strong is so old school that it is kind of annoying. Strong has committed to changing the Texas football culture in the wake of Mack Brown's departure, and that has resulted in him doing stuff like making his players wear solid white helmets during practice. According to Anward Richardson of OrangeBloods.com, Strong has removed […]
Since Day One new Texas Longhorns head coach Charlie Strong made it clear that there would be one thing that would not happen--no one would out-work or play tougher than the team that he put on the field (okay so two things). His rules made that pretty apparent and the news about the work he and the team put in during the spring show things are on the right track.What do you expect...
MORE STORIES >>
College Football News

Delivered to your inbox

You'll also receive Yardbarker's daily Top 10, featuring the best sports stories from around the web. Customize your newsletter to get articles on your favorite sports and teams. And the best part? It's free!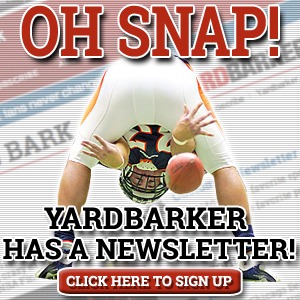 THE COLLEGE FOOTBALL HOT 10