Texas Longhorns head coach Charlie Strong took his team bowling Sunday. Catch the players reaction to the coach making the announcement of some time away from the football field. Also it's a good thing these young men are playing football and not there for a bowling scholarship. — BarDown (@BarDown) August 17, 2014 The post Texas coach Charlie Strong take the team Bowling...
Give Charlie Strong some credit. While he's come off as incredibly strict in his first few months as Texas head coach, he has shown that he can have some fun and let loose when necessary. Like other programs have done in recent weeks, Strong gave his team a surprise day off today, eschewing practice for a trip to the bowling alley. Texas released video of the surprise, and the...
After the dismissals and suspension that Texas Longhorns head coach Charlie Strong has been handing out you would think that the players still on the squad would get the picture by now. Buy in to his program or find your time wearing the burnt orange cut short.It seems that some guys still haven't.@AndrewKingHornsA few players have been seen recently wearing a WWE-style championship...
Videos of practice have been coming out from camps all across the country, but so far Charlie Strong's first fall camp seems to be the most physical and intense, at least from what we've seen. Over the weekend we caught a glimpse of the Longhorns' Oklahoma Drill. Now, Texas has released video of a bull ring drill, where two players enter a ring formed by their teammates, and...
Charlie Strong is trying to bring Texas out of the shadows of mediocrity. This past week at ESPN The Magazine, accomplished sportswriter Tim Keown chronicled Strong's efforts to bring the Bevo's Boys back to the top. From the feature-length article on Strong: "He studied under Lou Holtz, considers Bear Bryant an influence and yet encourages his players to dance and trash-talk...
Yesterday was a big day for the Texas Longhorns, as the team held its first practice in full pads under new head coach Charlie Strong. Like Strong, it was an intense practice, which featured one of the most in-your-face Oklahoma drills that we've ever seen. As select players ran the drill, their teammates passionately cheered them on, creating an awesome environment in camp. You...
Welcome to Strongville. In case there was any doubt, the Texas Longhorns are now coach Charlie Strong's team. Even if he is removing those iconic 'Horns from everywhere you can see them. I'll be straight up. I've long been a Charlie Strong fan for a long, long time. I've also spent a decent amount of time in Austin and probably have more burnt orange gear than any NY-bred...
For the first time since 1998, someone other than Mack Brown is the head football coach at the University of Texas. Ever since he became the school's head coach on January 5, 2014, Charlie Strong has made changes across the Longhorns football program — whether it's establishing strict rules and punishing players if they break them, or making players earn the Longhorn logo on...
Charlie Strong is so old school that it is kind of annoying. Strong has committed to changing the Texas football culture in the wake of Mack Brown's departure, and that has resulted in him doing stuff like making his players wear solid white helmets during practice. According to Anward Richardson of OrangeBloods.com, Strong has removed […]
Texas players have often been criticized for having a sense of entitlement.  First-year head coach Charlie Strong is making sure their recruiting rankings don't go to their heads anymore.  Strong has talked a lot about "Putting the T back in Texas" and hasn't been afraid to dismiss or suspend players this summer for breaking the rules.  For those who have the...
MORE STORIES >>
College Football News

Delivered to your inbox

You'll also receive Yardbarker's daily Top 10, featuring the best sports stories from around the web. Customize your newsletter to get articles on your favorite sports and teams. And the best part? It's free!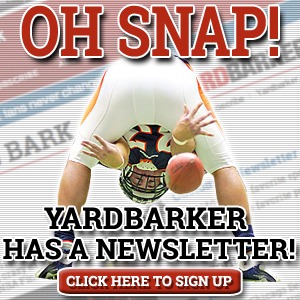 THE COLLEGE FOOTBALL HOT 10