Chip Kelly is either mad or an absolutely genius, maybe both. With apologies to Alan Iverson, we're going to talk about practice. Yup, we're talkin' bout practice...Spring Practice. In years past, UCLA Football has held Spring Practice in April. One of the reasons for that has been the fact that UCLA is on the quarter system and that means that March is filled with things like final...
The UCLA Bruins will have another quarterback in the mix next season.K.J. Carta-Samuels announced on Monday that he will join the Bruins' football program in the spring as a graduate transfer. Carta-Samuels joined Washington in 2014 and spent the past three seasons as Jake Browning's backup on the Huskies.Carta-Samuels told CBS Sports that new UCLA coach Chip Kelly told him there...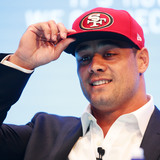 Rugby star-turned-NFL player Jarryd Hayne is being sued in Santa Clara County for allegedly raping a woman in Dec. 2015. The woman, who filed the suit on Tuesday, is claiming sexual battery, battery, gender violence, negligence, and intentional infliction of emotional distress in her lawsuit.According to details of the lawsuit, posted by Deadspin, the woman says she was out with...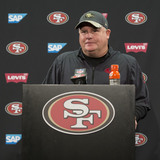 Chip Kelly may be open to hearing a pitch from UCLA before deciding on his next job.Florida reportedly intensified its efforts to hire Chip Kelly and met with the coach on Sunday, but they reportedly were unable to seal the deal.Here's what the Gainesville Sun's Robbie Andreu reported on Sunday night: That news comes amid some rumors that Kelly was set to take the Florida job.Another...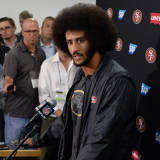 A year ago this month, NFL Network reporter Steve Wyche broke a story entitled, "Colin Kaepernick explains why he sat during the national anthem." Prior to this story being released, Kaepernick had been laying low while he recovered from his various surgeries in the offseason. Moreover, he had just started to emerge as a socially conscious activist through social media with various...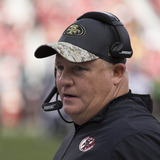 The San Francisco 49ers finished dead last in total defense during the 2016 NFL season. Needless to say, new defensive coordinator Robert Saleh has a tall task ahead of him to fix what was broken. However, he has one immediate fix in mind that, on the surface, seems like a no-brainer.Last season, rookie defensive lineman DeForest Buckner was on the field for over 1,000 snaps. In...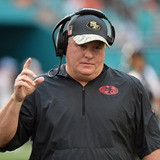 Chip Kelly has decided he will not be coaching at the NFL level during the 2017 season. No, he's not going back to college, either.ESPN announced on Friday that Kelly has signed with the network as a studio analyst."I spoke with a lot of people this offseason about different situations for me — in coaching and TV," Kelly told The Associated Press in a statement. "I had various opportunities...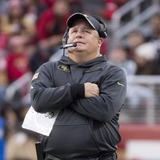 Chip Kelly was in Jacksonville Monday interviewing for the team's open offensive coordinator position, and a report indicates there is a good chance he'll get an offer. Chip Kelly went into #Jaguars OC job interview believing he was going get an offer. Has some assistant hires ready. Good chance it happens. — Ian Rapoport (@RapSheet) January 16, 2017 Kelly might have good reason...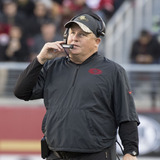 Prior to the team deciding to promote Doug Marrone, the Jacksonville Jaguars apparently met with former Philadelphia Eagles and San Francisco 49ers head coach Chip Kelly. They did so in the dark of the night without anyone really paying attention. At least, that's according to ESPN NFL insider Adam Schefter. Very quietly, Jaguars interviewed former 49ers HC Chip Kelly for their...
For years, there has been a leaky faucet of information coming out of the San Francisco 49ers' front office, and Chip Kelly has a good idea who's been doing all the sprinkling. According to Jay Glazer of FOX Sports, who spoke with Kelly, former general manager Trent Baalke has been working behind the scenes to undermine the former head coach. "For weeks and weeks and weeks, he...
MORE STORIES >>
College Football News

Delivered to your inbox

You'll also receive Yardbarker's daily Top 10, featuring the best sports stories from around the web. Customize your newsletter to get articles on your favorite sports and teams. And the best part? It's free!
THE COLLEGE FOOTBALL HOT 10