Down by five with a little over two minutes remaining on the clock at Reliant Stadium meant the Rice Owls were in grasping distance of pulling off a big comeback over their crosstown rivals in the Houston Cougars. All they needed was a successful onside kick to have a chance to score a touchdown for the win. And did they ever pull it off. Well, the kick anyways. At first...
Rice nearly pulled off an upset against the University of Houston over the weekend in a game that came down to the wire. After cutting Houston's lead to 31-26 late in the fourth quarter, Rice was able to recover one of the most impressive onside kicks you will ever see. Kicker Chris Boswell showed off […]
via YouTube After Rice University cut the University of Houston's lead to 31-26 in the final minutes Saturday, Rice asked placekicker Chris Boswell to get fancy on the ensuing onside kick.  And kinda like McDonald's ketchup, Roswell got fancy indeed. With six guys lined up to his left and four to his right, Roswell lined up as though he was going to kick it left-footed, his...
Houston was ready for Rice's onside kick attempt, but they weren't prepared for the Owls kicker's fancy footwork. Chris Boswell was called on for the onside kick during the fourth quarter with the Owls trailing by five and just over two minutes to play. Boswell added some style to the kick, however, as he planted his left leg and then wrapped his kicking leg around it to complete...
((HT: FSSouthwest)) All the HQ is going to say is "watch..." Rice's Chris Boswell goes all crossover-flip kick and WR Klein Kubiak picks it up... Absolutely ridiculous...
I have been trying to reproduce this on dog toys in my living room for five minutes now and can't seem to get it down: That's Rice kicker Chris Boswell pulling off one of the slickest onside kicks you'll see all year, and saving it for crosstown rival Houston. He takes about three-and-a-half steps, looking like he's kicking it to the left before poking it the other...
HOUSTON (AP) Chris Boswell kicked a 56-yard, go-ahead field goal with eight minutes left in the fourth quarter and Charles Ross added an 8-yard touchdown run as Rice beat Kansas 23-14 Saturday night.The win evened up Rice's record at 1-1, and the loss did the same for Kansas (1-1).Taylor McHargue completed 14 of 31 pass attempts for 168 yards and Ross carried the ball a career...
Chris Boswell's fourth field goal, a 45-yarder as time expired, lifted Rice to a come-from-behind 25-24 victory Saturday over Kansas. Boswell also had kicks of 47, 29 and 29 yards for the Owls (1-1), who got into position for the winning score after Bryce Callahan's interception of Dayne Crist's pass with 3:47 to play. Rice's Taylor McHargue led a 93-yard drive...
Rice sophomore kicker Chris Boswell is one of 20 placekickers who have been named as semifinalists for the 2011 Lou Groza Collegiate Place-Kicker Award presented by the Orange Bowl Committee.
NOT ON SOLID FOOTING
If you're ever feeling down or in need of a emotional boost, just save this wonderful GIF and watch it when you need it most. While a kicker slip doesn't quite match the beauty of a Fat Guy Touchdown, it's not far behind. The conditions were bad, which is why Rice kicker Chris Boswell found [...]
MORE STORIES >>
College Football News

Delivered to your inbox

You'll also receive Yardbarker's daily Top 10, featuring the best sports stories from around the web. Customize your newsletter to get articles on your favorite sports and teams. And the best part? It's free!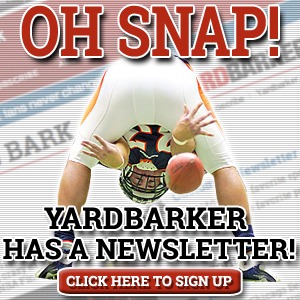 THE COLLEGE FOOTBALL HOT 10