Georgia wide receiver Chris Conley led the Bulldogs last season with 45 receptions for 651 yards but his interests go far beyond the football field. Earlier this year he released a Star Wars fan film titled "Retribution" and it is approaching 400,000 views on Youtube. ESPN's Ivan Maisel took a look at Conley's "direction in life"…. When you're a starting senior flanker...
Georgia Bulldogs wide receiver Chris Conley is a big time Star Wars fan and he actually wrote, directed and starred in his movie that was filmed on Georgia's campus. Mark Richt and Todd Gurley have a cameo to make it all the better, but to be honest, they aren't the best part of this fan film. […] The post Georgia WR Chris Conley Makes His Own Star Wars Movie appeared first on Diehardsport.
Georgia Bulldogs wide receiver Chris Coley finally released his Star Wars fan film, and it is epic.
Multi-talented Georgia wide receiver Chris Conley's offseason work is completed -- and now it's back to football. Conley, a 6-foot-3 rising senior and starting wideout for the Bulldogs, spent much of his offseason time on his Twitter-fueled project "Retribution," a 25-minute Star Wars fan film that features fellow Georgia football players and students, his head...
Chris Conley, a rising senior wide receiver at Georgia, is certainly talented on the field. He has over 1,200 career yards and 12 touchdowns for the Bulldogs in his career. What many don't know, is that Conley may be an even more talented filmmaker than football player. Conley, who we already knew was a huge Star Wars fan, has made a fan film spin-off of George Lucas' mega-franchise...
Photo Credit: @Ben_Kerr3 As a junior, Georgia wide receiver Chris Conley led the Bulldogs with 45 receptions in 2013 but what he might be best known for, at least right now, is that play from the SEC Championship Game in 2012. With time running down and Georgia streaking down the field, Conley instinctively caught a tipped pass from Aaron Murray inside the Alabama five yard line...
ESPN.com Cue the Imperial March theme.  Because Chris Conley, a wide receiver on the Georgia Bulldogs, is such a fan of the Star Wars series that he's decided to film his own homage to it.  Conley is a six foot, three inch junior who caught 45 passes for the Bulldogs in 2013. He got some of his Georgia friends to dress up as stormtroopers and other characters from the movies...
Sure, we're well over a month past Halloween, but is there really a bad time to dress up in a nice costume? Apparently not, at least if you're Georgia wide receiver Chris Conley. Today in the UGA locker room, Conley decided to dress up as a stormtrooper from Star Wars because that's a totally awesome thing to do: When @starwars and football meet… #winning pic.twitter.com...
Chris Conley is not your stereotypical Division I college athlete. A junior wide receiver who leads the 8-4 Georgia Bulldogs in catches and receiving yards, Conley is also a self-proclaimed nerd — and one with a serious affinity for all things Star Wars. Conley is not shy about his love of the George Lucas creations, even going as far as to show up to a UGA gymnastics meet in full...
You don't have to read player commentary to know the attitude around the Georgia program wasn't always "BIG TEAM, Little Me" (as one of my Twitter followers would say); the Bulldogs suffered from a bit of an entitlement problem as…Read more →
MORE STORIES >>
College Football News

Delivered to your inbox

You'll also receive Yardbarker's daily Top 10, featuring the best sports stories from around the web. Customize your newsletter to get articles on your favorite sports and teams. And the best part? It's free!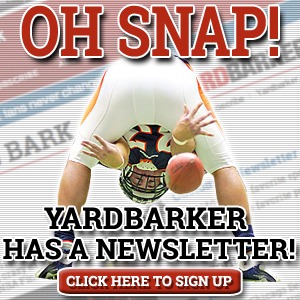 THE COLLEGE FOOTBALL HOT 10