The Auburn football program isn't going to let anyone forget about their miraculous "Kick 6″ return in the 2013 Iron Bowl. Not anyone that comes across the Tigers' new equipment truck, anyway.  Auburn has updated the look on one of its semis and it prominently features Chris Davis' game-winning touchdown against Alabama last November.  Check it out:  Kick 6 forever...
There's no debate – last year's Iron Bowl was the college football game of the year. The Tigers, playing the role of underdog, capped off an incredible comeback with a 100-yard missed field goal return by cornerback Chris Davis as time expired. It was truly one of the most exciting finishes (unless you're a Crimson Tide fan) to a game that any of us have ever seen. Tuesday...
At last night's ESPY Awards, the Florida State Seminoles football team was one of the nominees for the award for the Best Team in all of sports. The 'Noles lost to the Seattle Seahawks, which according to former Auburn cornerback Chris Davis, is exactly what should have happened.  I know FSU better not win because they clearly was not the best team #WDE — Chris Davis (@chris11au...
The Auburn Tigers Grounds Crew went though and tracked Chris Davis' epic return against the Alabama Crimson Tide. Needless to say, I'm sure this is the most fun the grounds crew has had working in a while. [@au_grounds_crew] The post Auburn Grounds Crew Tracks Chris Davis' Return appeared first on Diehardsport.
This is pretty cool. The Auburn "Kick 6″ by Chris Davis to beat hated rival Alabama last year will go down in Tigers history. Now they have painted the trail that Davis took onto the field as he returns to campus this weekend. I still can't believe that actually happened. It's absolutely a "remember where you were" moment for College Football fans. [@AU_Grouds_Crew]
It's unlikely that any high school football player who is debating playing for the Auburn Tigers is unaware of the way the Iron Bowl ended last year. But just in case, the school's grounds crew has decided to paint a dotted line on the field at Jordan-Hare Stadium that shows the route that Chris Davis took when scoring the game-winning touchdown off of Alabama's missed field...
Chris Davis' life has changed. Completely. He likes to stay humble, and doesn't want to brag, but facts are facts. The next day he went to class after catching Alabama's missed field goal in the Iron Bowl and then running it back all the way more than 100 yards for a game-winning touchdown? He got a standing ovation when he walked into his geology class. Later, he went...
An Auburn Tigers fan with a good handle on to not only string up Christmas lights but also possesses a knack for timing them has created a dazzling holiday display on his home that syncs up with Rod Bramblett's histrionic radio call of Chris Davis' game-winning touchdown run off an Alabama Crimson Tide missed field […]The post Auburn Tigers fan creates X-Mas light display that...
Chris Davis returned a missed field-goal attempt more than 100 yards for a touchdown on the final play to lift No. 4 Auburn to a 34-28 victory over No. 1 Alabama on Saturday, upending the two-time defending national champions' BCS hopes and preserving the Tigers' own. Davis caught the ball about 9 yards deep in the end zone after freshman Adam Griffith's 57-yard attempt...
After a review put one second back on the clock, Alabama decided to attempt a 57-yard field goal for the win.  They missed the field goal and Auburn Tigers senior cornerback Chris Davis caught the field goal and then ran it back 109-yards to the house.  This is one of the single greatest endings to a football game you will ever see. Naturally the crowd rushed the field. [SB...
MORE STORIES >>
College Football News

Delivered to your inbox

You'll also receive Yardbarker's daily Top 10, featuring the best sports stories from around the web. Customize your newsletter to get articles on your favorite sports and teams. And the best part? It's free!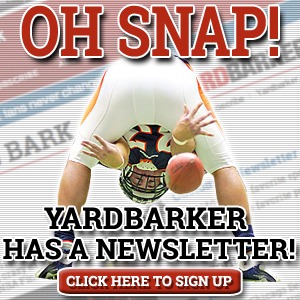 THE COLLEGE FOOTBALL HOT 10