The Pac-12 is loaded with quarterbacks from top to bottom in 2014. Here's a comparison of what two did in conference games last season. Quarterback A played in all nine conference games in 2013, throwing for 1,926 yards, 12 touchdowns, four interceptions, and had a pass efficiency rating of 148.7. Quarterback B also played in nine conference games in 2013. This quarterback threw...
Steve Sarkisian allowed it to marinate. Last Thursday, he had a "feeling" on who his starting quarterback would be. By Tuesday, he was ready to start cooking. The first year USC head coach made it official following spring practice No. 13 for USC Tuesday evening, announcing Cody Kessler as his starting quarterback. "If we were starting a game Saturday, Cody would be...
There is beginning to be some separation at the quarterback position for USC. Cody Kessler, the incumbent, and redshirt freshman Max Browne are in a battle to determine who will be the team's signal caller in 2014 under first year head coach Steve Sarkisian. Six practices in, it's Kessler who appears unwilling to relinquish his hold as the Trojans starter. "Cody'...
Competition never ends for Cody Kessler.  It was like that when he earned honors on the basketball court and football field at Bakersfield Centennial High School.  It was like that from the moment he stepped onto the USC campus in 2011.  Kessler started all 14 games for USC last season and guided the team to 10 wins including a signature victory at the Coliseum over then-No. 4...
As far as USC football is concerned, all we've been hearing about lately is the quarterback competition between Cody Kessler and Max Browne. But there's another quarterback on USC's roster that doesn't get talked about too often– 3-star freshman QB, Jalen Greene. Jalen Greene enrolled at USC in the spring of 2014 after graduating a semester early from Serra High School–...
Last year during spring football, three quarterbacks were competing for the starting role– Cody Kessler, Max Wittek and Max Browne. Max Browne during Spring Football practice in 2013. (Photo Credit: www.usctrojans.com) This spring, the competition is down to two after Max Wittek decided he would transfer out of USC. During the quarterback competition last season, former head coach...
Note: Quarterback Max Wittek ended up announcing he would transfer after this article was written. With a little over a week to go before the 2014 National Signing Day, USC got a big commit— for the 2015 class. He may have committed a year before the deadline, but the 5-star quarterback was not the first. Way back in 2010, Lane Kiffin got then-13-year-old David Sills' commitment...
LOS ANGELES -- Cody Kessler remains fond of a lesson taught by his high school coaches: "Be constructive, not destructive." When it comes to those words, the USC redshirt sophomore quarterback walks a fine line. He's his self-proclaimed worst critic. After going through what he calls the "worst practice I've had since I've been here" on Wednesday...
From Left to Right: Max Browne, Max Wittek Cody Kessler (Photo Credit: Daily Trojan) The recent quarterback competition at USC has been one of the most discussed topics ever since the Trojans horrific season came to a close. With Matt Barkley gone, the Trojans now have 3 solid quarterbacks all fighting for the number one spot: Max Wittek, Cody Kessler and Max Browne. USC fans were...
LOS ANGELES Before a ball was snapped or a pass was thrown during USCs spring game at the Coliseum on Saturday, Cody Kessler trotted out to midfield where he met his teammate, Hayes Pullard, and the officials. Much to his surprise, Kessler was ordered by his head coach, Lane Kiffin, to go out and be the captain for the Cardinal team. Kiffin was like go out there, Kessler recalled...
MORE STORIES >>
College Football News

Delivered to your inbox

You'll also receive Yardbarker's daily Top 10, featuring the best sports stories from around the web. Customize your newsletter to get articles on your favorite sports and teams. And the best part? It's free!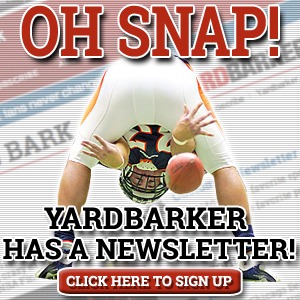 THE COLLEGE FOOTBALL HOT 10