Did Clemson's 45-21 loss at Georgia surprise you? It shouldn't have. If you've followed the blog or listened to the podcasts, we've told you all summer that Clemson lacked playmakers on offense. Would anyone step up? The answer is no. The Wide Receivers had their moments, but couldn't consistently get open. The running backs were adequate, but hardly exceptional, and Cole...
Clemson QB Cole Stoudt has a little fun posing as a mannequin at the Clemson facility.  The Tigers starting QB had a little fun (maybe too much) at the expense of all those who would pass by. Stoudt, with the help of Clemson's staff, put on a uniform and got to the team's facility at the crack of dawn to put himself in position to scare the living heck out of his Tigers teammates...
August has finally come around, and fall camp is well under way for Clemson Football. The hard work and dedication that the student athletes have put in during the hot summer sessions have paid off as weigh-ins showed some terrific progress among the players. Now it is back to full pads practices and stadium scrimmages as the team prepares to face off against Georgia later this month...
Simply outstanding. It's very impressive that Clemson Tigers quarterback Cole Stoudt was actually able to stay still that long or not give it away by starting to laugh. The first person he gets is an absolute classic. [YouTube] The post Clemson QB Cole Stoudt Pulls Off Hilarious Mannequin Prank appeared first on Diehardsport.
Football players just love to pull off a good prank and the quarterback of the Clemson football team is no exception. Redshirt senior quarterback Cole Stoudt is set to replace New York Jets draft pick Tajh Boyd this season for the Tigers. Through his first three years, Stoudt has amassed 742 passing yards, eight touchdowns — and one solid bit. To keep things loose for the upcoming...
Clemson Tigers quarterback Cole Stoudt took some time over the weekend to pull the old fake mannequin prank on some unsuspecting players, fans, and staff members. The results were predictable.I'm, kind of, getting sick of the mannequin gag. Stoudt did get one of the players to throw him a little slap to the side of the helmet, but unless there is some hardcore retaliation these...
Just before the season actually gets started it's good to have a little fun. Clemson QB Cole Stoudt embodied that spirit and dressed up like a mannequin so that he could scare the life out of teammates and people that walked by. My favorite reactions are the people who just ran away scared and the teammate who slapped the facemask. The trend to slap facemasks needs to stop but...
Playing pranks on your teammates is always a fun preseason activity, so long as you don't take it too far and wind up with a bunch of enemies for the entire year. Clemson quarterback Cole Stoudt decided to get in on the action, going for one of the most sure-fire methods – turning yourself into a mannequin. Stoudt, with the help of Clemson's staff, put on his full uniform and...
GREENSBORO, N.C. -- Patience is a concept that's much more easily discussed than it is put to good use. But Clemson senior quarterback Cole Stoudt has always been more patient than most. "In high school, I had a little bit of patience. When I was a freshman, my brother was a senior, so I was doing freshman ball and he was doing his year. I had to be patient and wait for...
There has been plenty of talk about Clemson's quarterback battle since the departure of one of the most legendary quarterbacks in Clemson Football history. Tajh Boyd was an incredible team leader that gained the respect of many in his time at Clemson, so there were valid concerns regarding who would be able to fill the large void left by his absence. Cole Stoudt (6-foot-4, 210...
MORE STORIES >>
College Football News

Delivered to your inbox

You'll also receive Yardbarker's daily Top 10, featuring the best sports stories from around the web. Customize your newsletter to get articles on your favorite sports and teams. And the best part? It's free!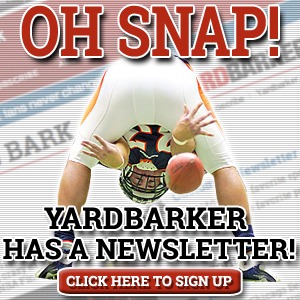 THE COLLEGE FOOTBALL HOT 10