Connor Shaw. Via WBTW.Former South Carolina starting quarterback Connor Shaw hit the post-college football career autograph signing circuit over the weekend. Naturally Gamecock fans stood in line for hours in order to get the Capital One Bowl MVP to sign their sports memorabilia. However, one genius decided to bring a Clemson helmet for Shaw to sign.Shaw played along, signing his...
That awkward moment when former South Carolina Gamecocks quarterback Connor Shaw signs a Clemson Tigers helmet with "This Is Our State!"
In a year where every game seemingly makes history, the Gamecocks did it again. For the first and only time since the 50's, a South Carolina football team came into the Clemson game having won the last four. Never before had the Gamecocks won five in a row, and Tajh Boyd had never beaten South Carolina despite being arguably the best quarterback to put on the orange and purple...
The South Carolina Gamecocks enjoyed a comfortable 34-16 victory in their homecoming to the tune of 307 yards of offense, their lowest total of the season. Connor Shaw threw four touchdown passes and Mike Davis eclipsed the 1,000-yard mark for the season, but the story in this game was the defense. Photo Credit: Paul Collins – Gamecockcentral As a unit, the South Carolina defense...
The only thing missing from Connor Shaw's otherwise remarkable resume was a signature road win, and though starter Dylan Thompson will get credit for the win on the stat sheet, this was Connor's night. The South Carolina offense, which struggled mightily against Tennessee last week, was productive in terms of moving the ball but looked to be in danger of being shutout for the...
After originally being ruled as out for South Carolina's visit to undefeated and fifth-ranked Missouri, quarterback Connor Shaw came into the game in the third quarter, and ultimately led the Gamecocks to a 27-24 win in double overtime. South Carolina was completely out of the game, trailing 17-0 heading into the fourth, but somehow Shaw was able to rally the offense and score...
When it rains, it pours. The South Carolina offense has been spectacular all year, rewriting the record books and firing on all cylinders in their first six games. Saturday, that could not have been farther from the truth. Photo credit: C.J. Driggers – Gamecockcentral The Gamecocks sputtered out of the gate, punting on two straight drives before a two-play drive ended in Connor...
South Carolina starting quarterback Connor Shaw wasn't quite amused with Gamecock fans who left Saturday's game against Vanderbilt early. In a press conference, Shaw criticized the early departures of the Gamecocks win over the Commodores, saying "I don't think there's any excuse for our stands to be emptying out. I was kind of disappointed in that." Here's...
Connor Shaw (center). Photo via The State. South Carolina starting quarterback Connor Shaw is looking ahead to his future. And it's looking more and more like he may join the military once his football-playing days are done. "Football is still my priority," said Shaw, who is 17-3 as a starter. "I am going to take football as long as it'll take me. Whenever...
South Carolina starting quarterback Connor Shaw reinjured his left foot in the early first quarter of the  Gamecocks' 24-7 win over Wofford. "Yeah, I'm a little banged up and retwisted it in the first series (of the game Saturday)," Shaw said. "I was able to finish strong, but it bothered me throughout the game." He completed 16 of his 21 passes...
MORE STORIES >>
College Football News

Delivered to your inbox

You'll also receive Yardbarker's daily Top 10, featuring the best sports stories from around the web. Customize your newsletter to get articles on your favorite sports and teams. And the best part? It's free!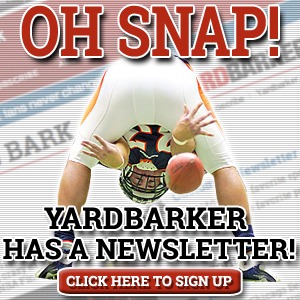 THE COLLEGE FOOTBALL HOT 10