Connor Rogers continues our series of breaking down the New York Jets UDFAs with a look at Clemson center Dalton Freeman. Check out the rest of the series here and give Connor a follow on Twitter. Name: Dalton Freeman College: Clemson Size: 6-5 / 285 Position: Center College Career: A four year starter at center for the Clemson Tigers, Freeman became a leader on their offensive...
CLEMSON - Dalton Freeman talks about the importance of beating LSU in the New Year's Eve showdown against LSU.
The Chick-fil-A Bowl will be Tigers vs. Tigers. Bowl officials announced Sunday night that No. 9 LSU will face No. 14 Clemson in the Dec. 31 game at the Georgia Dome. Both teams are known as the Tigers, and both play in the stadiums that are known as ''Death Valley.'' Despite the similarities, the Southern powers have met only twice before. Their third meeting...
Dalton Freeman's coaches and peers liken him to a coach on the field. So we went to him for some perspective on Clemson's newest offensive linemen.
Clemson running back Andre Ellington and center Dalton Freeman headline a list of eight players named as the Atlantic Coast Conference Football Players of the Week, announced by the conference on Tuesday.
CLEMSON - Seniors Brandon Ford and Dalton Freeman talk about the second stadium scrimmage of preseason camp.
Clemson center Dalton Freeman says his focus is squarely on the 14th-ranked Tigers' Orange Bowl matchup against No. 23 West Virginia next month. That gets tested each day Freeman walks around a campus crazy about the team's first Atlantic Coast Conference championship in 20 years. Freeman says he and his teammates can't go anywhere these days without a fan, classmate...
Clemson center Dalton Freeman has been named one of six finalists for the Dave Rimington Award. The honor goes to the top center in college football.Freeman, a junior, is the first Clemson center to be named a finalist since 2001 when Kyle Young was named. Young was also a finalist in 2000.
Clemson's game at N.C. State on Nov. 19 is essentially meaningless as the Tigers already have wrapped up a berth in the Atlantic Coast Conference Championship game. But don't try telling that to Clemson's players. "We have a totally different mindset," junior center Dalton Freeman said. "We're only guaranteed 12 games a year, and we work 365 days for...
Clemson center Dalton Freeman and Virginia Tech quarterback Logan Thomas headline a list of eight players named as the ACC Football Players of the Week, announced by the conference on Monday. Freeman, the Offensive Lineman of the Week, helped the Tiger offense accumulate 522 yards of offense in a 31-28 win over Wake Forest to clinch a spot in the ACC Championship. Thomas, the Offensive...
MORE STORIES >>
College Football News

Delivered to your inbox

You'll also receive Yardbarker's daily Top 10, featuring the best sports stories from around the web. Customize your newsletter to get articles on your favorite sports and teams. And the best part? It's free!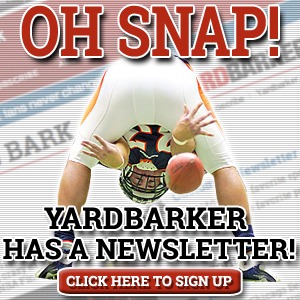 THE COLLEGE FOOTBALL HOT 10