The Pittsburgh Steelers second of two sixth round picks in the 2014 NFL Draft has been made and it's Tennessee DT Daniel McCullers. Scouting report via Dave Te' Thomas. DANIEL McCULLERS Defensive Tackle University of Tennessee Volunteers #98 6:06.6-352 Raleigh, North Carolina Georgia Military College Southeast Raleigh High School OVERVIEW Nicknamed "Shade Tree,...
McCullers would bring the beef to the Patriots frontAs the 2014 NFL draft rapidly approaches, we're turning our focus here at PatriotsLife towards the draft. Keeping that in mind, I'll be reviewing a different position of the Patriots roster each weekday, looking over their level of need at that position and some potential draft fits specific to their needs. We went over...
By Alex Kozora With the regular season over, our focus has shifted to the offseason. For the next few months, I'll be providing scouting reports on prospects. Some the Pittsburgh Steelers may look at. Other top players that will be off the board before the Steelers select. All to make you as prepared for the 2014 NFL Draft as possible. We looked at nose tackle Louis Nix III previously...
Tennessee DT Daniel McCullers talked about what he wanted to show scouts at the Senior Bowl, how he progressed, what he is hearing from NFL teams and more.
MOBILE, ALABAMA -- The latest on Tennessee defensive lineman Daniel McCullers from the Senior Bowl...
Daniel McCullers sacks South Carolina quarterback Connor Shaw in Saturday's upset victory over the Gamecocks. (Photo Credit: usatoday.com) Last season Tennessee Volunteers head coach Derek Dooley thought it might be a good idea to change up Tennessee's defensive scheme. Before the season came to its conclusion he was fired. While the Vols had one of the most lethal offenses in...
Daniel McCullers, DT, Tennessee, Senior Height / Weight (lbs) – 6'6" / 351 Projected Round – 2 Tennessee @ (2)Oregon – Saturday 3:30pm ET – ABC Daniel McCullers is a big man who currently played nose tackle whenever Tennessee ran a three-man front but he still proves to be agile when in a four-man front. Tennessee ran a four-man front primarily during all of 2012. A man...
College football is full of tremendous athletes — some stand out for their speed, others for their size, some for sheer strength. Tennessee's senior defensive tackle Daniel McCullers is one that fits into that "size" category. Obviously, being a senior, McCullers' size is nothing new — he is a 6-foot-8, 350 pound monster. However, this photo that was tweeted out by Wes...
The number of clones of Nick Saban's daughter it would probably take to beat the crap out of 6-6, 380-pound Tennessee defensive lineman Daniel McCullers, assuming they formed a circle around him and attacked at the same time.  If they came at him in small groups or individually, you could place an infinity symbol up top.
MORE STORIES >>
College Football News

Delivered to your inbox

You'll also receive Yardbarker's daily Top 10, featuring the best sports stories from around the web. Customize your newsletter to get articles on your favorite sports and teams. And the best part? It's free!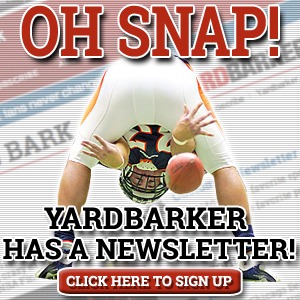 THE COLLEGE FOOTBALL HOT 10