Reported by Jake Trotter, ESPN, Kansas State's Daniel Sams is transferring out of the program to play in his home state for McNeese State.  By transferring to an FCS program, Sams will not be required to sit out a year and can play immediately. Sams wanted to leave Kansas State this spring after it became apparent that he would not hold the starting QB spot and that the coaching...
Daniel Sams. Photo via The Dallas Morning News. Former Kansas State quarterback Daniel Sams has found a landing spot. Sams, who left the Wildcat program during the spring, has decided to transfer to McNeese State, an FCS school where he won't have to sit out a year like he would if he transferred to a FBS program.Sams told ESPN that he chose the Lake Charles, La.-located McNeese...
Kansas State quarterback Daniel Sams has been granted his release by the program and is likely headed to play for an FCS school, as reported by the Kansas City Star. Sams is a redshirt junior "looking for a fresh start after losing K-State's starting job to Jake Waters last season," says Kellis Robinett of the Star. Sams was attempting to convert to wide receiver in spring practices.
KANSAS CITY, Mo. -- Bill Snyder wanted someone to get the ball in Tyler Lockett's hands. Daniel Sams wanted to play. And ne'er the twain. Thus, we are where we are Tuesday, the apex of a 12-hour cycle in which it was whispered that Sams, the Kansas State platoon-quarterback-turned-wideout, would be leaving the school -- a whisper confirmed this morning by a short news release...
MANHATTAN, Kan. -- Former quarterback Daniel Sams was granted a conditional release from Kansas State on Tuesday to pursue playing opportunities closer to his home in Slidell, La. The release allows Sams to contact only Football Championship Subdivision schools with the exception of Stephen F. Austin, which plays Kansas State this season. It does not allow the former starting quarterback...
Apparently the move to wide receiver wasn't what Daniel Sams was looking for next season. The former quarterback, who moved to receiver this spring, plans to transfer from Kansas State — likely to a FCS school where he would have two years of remaining eligibility and perhaps move back to QB. Because he's already used his redshirt, the junior-to-be at K-State would have only...
Kansas State dropped their second straight Big 12 game on Saturday falling to Oklahoma State, 33-29. It was a game full of would of - should of - and could of's for the Wildcats, but at the end of four quarters, it was still a loss nonetheless. It was also a game that was very un-Kansas State like. There were 12 penalties - the most for Kansas State in single game since 2005...
KANSAS CITY, Mo. -- Accident or design? Can't or won't? Either Daniel Sams feels uncomfortable passing the ball, which is bad, or has been told not to throw the rock. Which is worse. Regardless, know this: If the defensive coordinator preparing for Kansas State all week sees No. 4 come into the game with a menu of only two options -- hand off or take off -- it doesn'...
MANHATTAN, Kan. -- The problem is this: Daniel Sams does you no good stuck in park, idling in the driveway. When the Kansas State quarterback is on the sidelines, doing leg raises up and down to keep loose, it's like owning a Porsche 911, starting her up and revving the engine, over and over, just to hear it purr. Brother, you've got to let that tiger loose. "You put...
Daniel Sams threw for 391 yards and Jake Waters passed for 249 as the two ended their spring competition Saturday to replace Collin Klein as Kansas State's quarterback. The purple team beat the white team 76-3 and Waters and Sams each got two quarters with the first-string offense. ''We were going to make sure that they all got even opportunities, but somebody had to...
MORE STORIES >>
College Football News

Delivered to your inbox

You'll also receive Yardbarker's daily Top 10, featuring the best sports stories from around the web. Customize your newsletter to get articles on your favorite sports and teams. And the best part? It's free!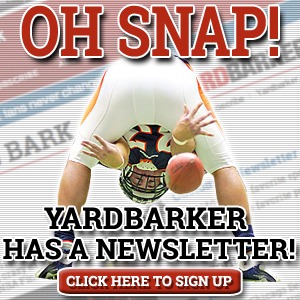 THE COLLEGE FOOTBALL HOT 10