Well, Purdue beat Southern Illinois 35-13, and it was by theoretically a handful of points, and if you didn't watch the second half and just looked at the box score it was a successful outing…so, can we just stop the postgame analysis there? *checking my earpiece* The bosses say no. Sigh. Ok, let's start with the good stuff, otherwise known as the entire first half. Purdue...
WEST LAFAYETTE, Ind. (AP) A week ago as Purdue prepared to play Notre Dame, sophomore quarterback Danny Etling was fighting to keep his job. After solidifying his role by completing 27 of 40 passes for 234 yards and two touchdowns in the 30-14 loss to the Fighting Irish, Etling is ready to take the next step: more yards per completion on Saturday when the Boilermakers (1-2) host...
You all know by now that Etling was named the starter yesterday by Shoop/Hazell…I don't have a huge problem with it, but am not sure this was ever a competition. Perhaps the word competition isn't quite right…it was really just a test. This test was put in place to see if the incumbent starter could be knocked off by overwhelming evidence and force by the backup, and according...
Purdue Boilermakers head Coach Darnell Hazell named Sophomore Danny Etling his starting QB for the 2014 season. Hazell is hoping for a better showing than the 1-11 campaign in his first season at Purdue. Etling took over before halftime of the fifth game last season, against Northern Illinois, from then-senior Rob Henry. In Purdue's next game, against Nebraska following a bye...
Danny Etling's work is just beginning. He was named Purdue's starting quarterback Monday. It wasn't a surprise. Etling was the No. 1 quarterback after spring practice and didn't do anything to lose the job during training camp. Austin Appleby was given every chance to move past Etling, but coach Darrell Hazell opted for the Terre Haute native. Hazell even delayed...
Sorry if you had odds on sophomore Austin Appleby beating out Danny Etling for the starting quarterback job at Purdue, it was a fool's bet anyway. On Monday, head coach Darrell Hazell announced what we all expected this fall — sophomore Danny Etling would be the starting quarterback when the Boilermakers take on Western Michigan to star the season. Etling started the final seven...
In a move many Purdue fans find themselves apathetic about, the university has elected to drop football as a varsity sport effective immediately. The move caught many by surprise. "It's a tough blow," said sophomore QB Danny Etling. "It seems especially contradictory to the 'One Brick Higher' mantra around here." Coach Hazell was more philosophical. "Any time you...
Danny Etling's preparations take him through hours in the film room and several notebook. Purdue's freshman quarterback is a true football junkie.
After a 1-4 start, new Purdue coach Darrell Hazell is making a few changes to his lineup.Quarterback Rob Henry has been benched in favor of true...
Purdue coach Darrell Hazell chose freshman Danny Etling as the starting quarterback Wednesday and moved former starter Rob Henry to safety. Hazell also suspended two receivers following their arrests earlier this week. Starter B.J. Knauf will miss the next two games, lose ticket privileges for those games and must fulfill a community service requirement. Little-used backup Jordan...
MORE STORIES >>
College Football News

Delivered to your inbox

You'll also receive Yardbarker's daily Top 10, featuring the best sports stories from around the web. Customize your newsletter to get articles on your favorite sports and teams. And the best part? It's free!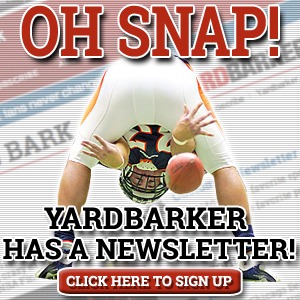 THE COLLEGE FOOTBALL HOT 10