Danny O'Brien's whirlwind college football career has taken him from the Atlantic Coast Conference to the Big Ten. It will conclude in the lesser-known South Atlantic Conference. O'Brien, the former Maryland and Wisconsin quarterback, will play his final season at Catawba College, a Division II school in Salisbury, N.C. Todd Willert, O'Brien's high school coach...
MADISON, Wis. The way Bret Bielema tells it, all the starts in the world at another school werent enough to convince him that Danny OBrien deserved to be a starting quarterback at the University of Wisconsin.Certainly Bielema, Wisconsins seventh-year football coach, had an inkling that OBriens experience would trump his competitors in a three-man quarterback race. But until OBrien...
No walk in the woods. Danny O'Brien, who transferred from Maryland to Wisconsin during the offseason, can expect competition for the job of Badger starting quarterback. (Wisconsin State Journal via The Chippewa Herald) O brave new world.  Mark Snyder looks at the changes in Michigan marketing strategy for football since Michigan athletic director Dave Brandon took over...
 (Big Tentacles is the SWRT look at the Big Ten, its sway over the college football landscape and that school in South Bend it not-so-secretly covets.) The future in now.  Former Maryland quarterback Danny O'Brien has finally arrived at the Wisconsin, where he will most likely be the Badgers' starting QB this season. (The Wisconsin State Journal)  Sparty...
Former Maryland quarterback Danny O'Brien showed a lot of promise as a freshman for the Terrapins. A regime change and eventual benching during his sophomore season prompted O'Brien to rethink his college situation that eventually landed him in Wisconsin. We saw Wisconsin take in senior quarterback Russell Wilson last year after a stint in professional baseball. Wilson...
According to a report from Jeff Potrykus of the Milwaukee Journal Sentinel multiple sources say that Danny O'Brien is becoming a Wisconsin Badger, which was recently confirmed by the Badgers themselves.  O'Brien will be graduating from Maryland this Spring and under NCAA rules will be eligible to play immediately at Wisconsin.  He's also got two years of eligibility...
By now you know that Danny O'Brien attended Penn State spring practice yesterday (I'll pat myself on the back for being the first to mention it). O'Brien is still weighing his options on where he will transfer, but this was his second visit to Penn State in the past couple of weeks. O'Brien spoke briefly to our Karisa Maxwell, who gets the credit for confirming with...
One of the discussions that pops up from time to time in recent weeks is whether or not Penn State will be in the running to bring in transfer quarterback Danny O'Brien, from Maryland. It is an idea I threw out there in the wild when wfe learned that O'Brien was officially looking to transfer, and it is one that I feel would be a good move by Bill O'Brien and his coaching...
I thought, and maybe Hickey would disagree with me here, that Indiana Hoosiers football had some flashes of quality play during their 1-11 campaign through the 2011 season. Quarterback Tre Roberson is pretty good and head coach Kevin Wilson seems to know what he's doing (at least sort of). Things might just be on the way up in Bloomington. And now I know for sure that it could...
Just one year ago, it was all smiles for Maryland Terrapin fans and Danny O'Brien.  He was coming off a great freshman season and us fans were looking at 3 more years of possibly our best QB since Scott McBrien.   Now he's gone. And he is sprinting out the door. And I don't blame him one bit. While the future may be better for the football program after a shockingly...
MORE STORIES >>
College Football News

Delivered to your inbox

You'll also receive Yardbarker's daily Top 10, featuring the best sports stories from around the web. Customize your newsletter to get articles on your favorite sports and teams. And the best part? It's free!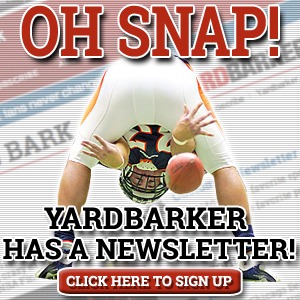 THE COLLEGE FOOTBALL HOT 10