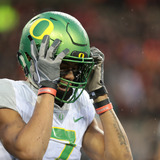 Oregon receiver Darren Carrington has been dismissed from the school's football program following an arrest for driving under the influence of intoxicants.The senior, who opted not to declare for the 2017 NFL Draft, was arrested weeks ago after his vehicle collided with a pole in Eugene, Ore. The team suspended him indefinitely at that time, and in the weeks since has opted to dismiss...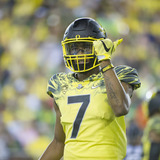 Top Oregon Ducks wide receiver Darren Carrington has found himself in some rather hot water with local authorities in Eugene.The soon-to-be senior receiver was arrested early Saturday morning on DUII (driving under the influence of intoxicants) charges after crashing his car into a McDonald's drive-thru shortly after 3 a.m."Carrington was charged with DUII, a Class A misdemeanor...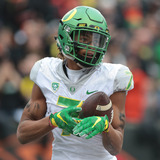 The new coaching regime at Oregon may have already come under fire for holding workouts that left three players hospitalized, but they appear to have some support within the program. Ducks wide receiver Darren Carrington, who just completed his junior season, defended strength coach Irele Oderinde for the grueling conditioning workouts that resulted in the hospitalizations. In fact...
As snow falls and Eugene begins to slow down, the same cannot be said for head coach Willie Taggart. After luring Jim Leavitt away from Colorado to be the next defensive coordinator, it seems the former South Florida coach is not done. A heavy overhaul is underway for the Ducks under-performing defense on both the coaching and recruiting fronts. Taggart has hired Keith Hayward to...
The 2015 college football season is all but over, but it is always fun to look back at the season and wonder what could have happened. One team that could have had a vastly different season had things gone their way is the Oregon Ducks. Had quarterback Vernon Adams Jr. not broken his finger in the opening game of the season, the second game against Michigan State could have gone...
Oregon Ducks wide receiver can't seem to catch a break. After missing the College Football Playoff championship game last season due to a failed drug test, which drew him a five-game suspension this season, Carrington was cited for an open container violation on September 26. Andrew Greif of The Oregonian reported the citation. Carrington, 20, could thus face another obstacle as...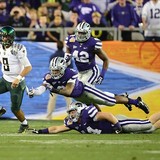 Of all the tantalizing prospects committed to playing for the University of Oregon next season, quarterback Travis Waller of Servite H­igh School in Anaheim, CA figures to be one of the most exciting and paid attention to. With the Ducks searching for an heir to Mariota's throne, many fans are pointing towards this young player to be the face of the future. Waller is a dual-threat...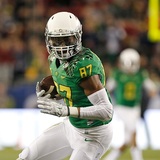 By Vincent Frank Big-play Oregon wide receiver Darren Carrington has reportedly been suspended for the team's National Championship game matchup against Ohio State after apparently testing positive for marijuana. Oregon redshirt freshman wide receiver Darren Carrington failed a NCAA administered drug test and did not make the trip to Texas for Monday's national title game against...
No footing, no problem. Oregon WR Darren Carrington caught a ball lying flat on his back in Saturday's game against Colorado. As Carrington and a Buffaloes defensive back went up to battle for a jump ball, neither came down with it. Both players fell down, but Carrington was able to get his fingers on the ball and tipped it up in the air. It then fell right into his hands as he laid...
Oregon was supposed to have a banner year in 2014, but now a key piece to their championship puzzle has been potentially sidelined for the season. Stalwart junior wide receiver Bralon Addison was poised to have a breakout season leading a young Ducks' receiving corps. Addison was even penned by some to be a dark horse Heisman candidate for the Ducks (Hey! The kid is a difference...
MORE STORIES >>
College Football News

Delivered to your inbox

You'll also receive Yardbarker's daily Top 10, featuring the best sports stories from around the web. Customize your newsletter to get articles on your favorite sports and teams. And the best part? It's free!
THE COLLEGE FOOTBALL HOT 10