GREEN BAY, Wis. -- As Datone Jones opened his Green Bay Packers' defensive playbook for the first time this past weekend, everything looked very familiar. While the rest of the team's rookie class was starting from scratch and learning a new system, Jones was already several steps ahead. "We ran pretty much the same defense, Dom Capers' defense, at UCLA," Jones...
NFL Team: Green Bay PackersPick No: 26Player Name: Datone JonesPosition: DESchool: UCLAHeight/Weight: 6'4", 283The Vitals: Jones is a monster. During his Senior year he had 19 tackles for a loss including 6.5 sacks.He is able to find running backs regularly and get them tackled. His size makes him a force to be reckoned with and he joins a Packers defense where he will be...
Here are some of the opinions offered to Packer Report about UCLA defensive end Datone Jones. Among them: "Datone Jones is pretty damned good. He's just so explosive."
GREEN BAY, Wis. -- The Green Bay Packers have added to their defensive line in a big way, drafting UCLA defensive end Datone Jones with the 26th overall pick. Jones, a fifth-year senior who is 6-foot-4 and 280 pounds, had 5.5 sacks and 62 tackles during the 2012 season. The Packers were in need of added depth on their defensive line with Ryan Pickett as the oldest player on their...
GREEN BAY, Wis. (AP) -- The Green Bay Packers have selected UCLA defensive end Datone Jones with the 26th pick in the first round of the NFL draft. The Packers addressed one of their positions in greatest need of an upgrade on Thursday night by taking Jones. The 6-foot-4, 283-pound Jones had 19 tackles for loss and 6 sacks for UCLA in a breakout season in 2012 as a fifth-year senior...
PICK: Datone Jones, DE, UCLAANALYSIS: I've been mocking this pick to them for a while, and I really love the fit. He fills Green Bay's biggest need of a pass rushing DE (in the 3-4), he provides good value, and I think he will excel in Green Bay. Not to mention he will also take tons of pressure of Matthews and Perry coming from the OLB position. It was a tossup between...
In an era of football featuring so many specialists that can only do one thing really well, it is refreshing to see the stereotypical 'football player' that can be lined up almost anywhere and be productive. In addition, it is also a pleasure to highlight under-appreciated players that do not get the respect they should from both draftniks and the media who are focused on athletic...
As NFL offenses typically focus on the passing game, DCs have been focusing on hybrid defenders, capable of lining up inside and out depending on the down and distance. Datone Jones meets this criteria, playing highly effective football at both DT and DE. He could be valuable to a 4-3 or 3-4 defense and is expected to go off the board in the first round of the 2013 draft. For more...
UCLA defensive end Datone Jones came to Mobile, Alabama this week with a chip on his shoulder. He explained to FOX Sports NEXT what it is he has to prove at the Senior Bowl.
Junior defensive end Datone Jones talks about UCLA's inconsistency this year, the inability to get stops on defense, and what the team needs to do to right the ship...
MORE STORIES >>
College Football News

Delivered to your inbox

You'll also receive Yardbarker's daily Top 10, featuring the best sports stories from around the web. Customize your newsletter to get articles on your favorite sports and teams. And the best part? It's free!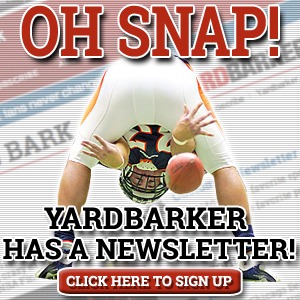 THE COLLEGE FOOTBALL HOT 10