Brian Kelly told reporters Tuesday that the hearings for five suspended Notre Dame players resolving the school's academic conduct investigation could happen by the end of next week. Irish wide receiver DaVaris Daniels, cornerback KeiVarae Russell, defensive end Ishaq Williams and linebacker Kendall Moore were removed from the team in August while the school conducted an investigation...
Since Brian Kelly took over the Notre Dame football program in 2010, there's been a whole host of off-the-field issues that have tarnished the Golden Dome. No need to go into detail on all of the PR black eyes here, simply stating the individual names will suffice: Everett Golson, Manti Te'o, Tommy Rees, Michael Floyd, Carlo Calabrese, Declan Sullivan, Lizzy Seeberg/Prince Shembo...
Another Notre Dame football player Safety Eilar Hardy has been suspended due to the ongoing investigation of academic dishonesty.  Now the total number of Fighting Irish suspended from team activities and games stands at 5 (Hardy, Kei'Varae Russell, DaVaris Daniels, Kendall Moore and Ishaq Williams).  Not sure how far this goes and how damaging it will be to the football...
Notre Dame wide receiver DaVaris Daniels has maintained he writes his own papers and likely relayed that message to Notre Dame officials in an interview this week, a source close to Daniels told CBSSports.com. Daniels, the team's leading returning receiver, is one of four Irish players in the center of an academic investigation conducted by the school. Cornerback KeiVarae Russell...
Yahoo Sports' Pat Forde is saying that Notre Dame is under investigation for academic fraud. Yahoo Sports sources: investigation into academic fraud underway at Notre Dame, football players (as well as regular students) part of probe — Pat Forde (@YahooForde) August 15, 2014 Rumors has it that a tutor was funneling four players, DaVaris Daniels, defensive […] The post Report...
Posted to Notre DameDaniels had 7 TD's for over 700 yards last season for the Irish. He was suspended in the spring for academic reasons. Instead of entering the NFL draft, Daniels decided that he would return to South Bend once he got his grades up. Notre Dame finally readmitted him this week and he will start summer classes next month. The return of Daniels is huge for Notre...
Notre Dame's leading returning receiver is back. Rising junior wideout DaVaris Daniels has been readmitted to school after being placed on academic suspension for the spring semester, the Associated Press reported Wednesday. He will be able to take summer classes and rejoin the team for summer workouts. Though the school has not made the reason for the suspension public, Daniels...
The annual Notre Dame spring game took place two weeks ago. Now with the dust settled let's look at some important takeaways from the game. First, Malik Zaire proved he can compete with Everett Golson to be the starting quarterback. Zaire played a great spring game completing 18 of 27 passes for 292 yards and two touchdowns. Golson did not fair as well completing 13 of 23 passes...
DaVaris Daniels wasn't exactly shocked to see those D grades in his statistics and social problems classes. The Notre Dame receiver -- currently an ex-Notre Dame receiver -- was missing 2-3 fall classes per week on average. Daniels already lacked urgency with non-football aspects of his life, he admits, and an injury concoction of plantar fasciitis, turf toe and hip flexor made...
Notre Dame wide receiver DaVaris Daniels says he will be ready to go when the top-ranked Fighting Irish face No. 2 Alabama in the BCS title game, two months after breaking left collarbone. Irish coach Brian Kelly said the Irish need to make some ''big chunk'' plays against the Crimson Tide and Daniels could help. His average of 15 yards per catch is the highest of...
MORE STORIES >>
College Football News

Delivered to your inbox

You'll also receive Yardbarker's daily Top 10, featuring the best sports stories from around the web. Customize your newsletter to get articles on your favorite sports and teams. And the best part? It's free!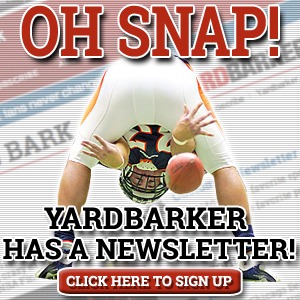 THE COLLEGE FOOTBALL HOT 10