1st Round (24th overall) – OG David DeCastro Most people thought David DeCastro was a lock to be a great NFL guard and should've gone inside the top ten. Instead, he fell all the way to Pittsburgh at 24th overall and boy did the Steelers steal one. DeCastro has already eclipsed Maurkice Pouncey as the Steelers best offensive lineman and has been a big reason for the success of...
FOXBORO, Mass. -- Stanford guard David DeCastro's surprising fall might have been the biggest reason why the Patriots' opening night of the draft was such a complete success. The Patriots started Thursday by trading up to the 21st pick to select Syracuse defensive end Chandler Jones, which was a strong move for a team that needed a boost on the edge. Because of that move...
DeCastro is an elite prospect despite being a guard. The Pittsburgh Steelers have always been a difficult team to project on draft day and trying to predict who they will take in a mock draft is near impossible, as they build their board, then abide by it, regardless out outside opinions. The Steelers are an organization built on doing things the right way and when it comes to the...
ThebPittsburg Steelers, a team in need of protecting quarterback Ben Rothleisberger, selected Stanford guard David DeCastro. This is an excellent choice as DeCastro was widely considered a premier blocker.
The Steelers have just made their first round pick.  It was a huge steal.  The Steelers picked up OG David DeCastro from Stanford.  I had DeCastro ranked in my top 10 over all.  This was such a steal.  Guards always fall but this was ridiculous.  Great pick by the Steelers. I was all for Dont'a Hightower but there is no way to pass this kid up.  I love this pick.  What...
From the fans' perspective, there is nothing less sexy than to take a guard or center in the draft. Yet when you get value at that position, you can anchor your offense in a way that is seldom recognized. A good interior line can cover average tackles on the edge and provide diversity and power to your offense. Teams typically carry only three interior linemen on game day, so...
The following is the 4th in a series of draft profiles for potential 1st and 2nd round picks for the Dallas Cowboys. These profiles are put together with the specific needs of the Cowboys in mind, and is an attempt to examine their resumes and game tape to get an idea of who might fit in best with Dallas come draft day. David DeCastro Stanford Guard 6-foot-5, 316 lbs. 40 time: 5...
Former Stanford offensive guard David DeCastro has been working out at the Athletes' Performance Institute in Phoenix, Arizona in preparation for the NFL Combine and Draft.
David DeCastro OG Stanford #52 Ht: 6'5″ Wt: 315   Strengths: Elite size and strength. Dominant run blocker; does a great job staying low and using good leverage. Decent athleticism for an interior lineman; capable of getting to the second level. Well respected by teammates and coaches. Excellent work ethic. Three-year starter with plenty of experience. Has the skills...
David DeCastro is a real OG, at least in the sense that he plays offensive guard. While Andrew Luck has been getting all of the accolades for the Cardinals, and even offensive tackle Jonathan Martin getting some love, DeCastro has been often overlooked. But those in the know have been saying all year that he may have been just as valuable to Stanford's success as Mr. Luck himself...
MORE STORIES >>
College Football News

Delivered to your inbox

You'll also receive Yardbarker's daily Top 10, featuring the best sports stories from around the web. Customize your newsletter to get articles on your favorite sports and teams. And the best part? It's free!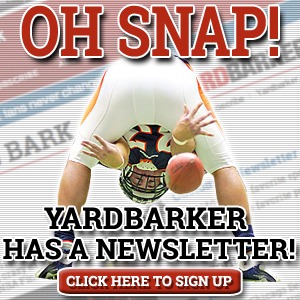 THE COLLEGE FOOTBALL HOT 10