Fifth year senior David Gilbert of Coral Springs who transferred to Miami to from Wisconsin to play his final year of college football has received one of the coveted invites to participate in a post season bowl game for seniors looking to boost their NFL draft status.  Gilbert finished the season playing at a very high rate and now will look to use his body of work and his performance...
Former Wisconsin Badgers lineman David Gilbert took the field Tuesday morning for his first full-pad practice as a member of the Miami Hurricanes. Gibert said he was retiring in April following a series of foot injuries the past few seasons with the Badgers. The Coral Springs, Fla., native then surprised many people in Madison by deciding to play a final year at Miami. "In his...
CORAL GABLES, Fla. -- The University of Miami nearly doubled its 2012 sack total over the weekend. Two players who combined for 11.5 sacks last season officially joined the Hurricanes on Saturday. Defensive end transfers David Gilbert and Ufomba Kamalu -- as well as defensive tackle transfer Justin Renfrow -- took the field Tuesday morning for their first full-pad practice as &...
This spring we found out that the Badgers were going to be without the services of one David Gilbert as he decided to retire from his football career due to a history of foot injuries. Of course, just like all good retirement stories Gilbert appears to have had a change of heart and will be back playing the game. It just won't be for the Cardinal and White....  Just...
No, if ands or doubts about it.... This one is a shocker. On Friday afternoon the University of Wisconsin announced that senior defensive end David Gilbert is retiring from football due to reoccuring foot injuries. Here are the words of Gilbert himself in making this announcement:  "This was a difficult decision for me but I have had multiple injuries and surgeries on my foot...
Expected to be one of the four senior defensive linemen the Badgers were going to utilize this fall, senior defensive end David Gilbert is forced to quit the team due to reoccurring foot issues.
Who knew a pass rusher and his main target would have so much in common? However, it appears that David Gilbert and Curt Phillips have more in common than any of us could possibly imagine. What am I talking about? Well, following Wednesday's practice it is being reported by Tom Mulhern of the Wisconsin State Journal that David Gilbert, who was supposed to be making the transition...
According to the Wisconsin State Journal starting defensive end David Gilbert will not be the starter on Saturday against Taylor Martinez and the rest of the Nebraska Cornhuskers. Why? Well, because he decided to call out the Huskers QB for amongst other things, being "soft" and "still looking like he's skipping rocks out there." In making his announcement...
It's not as if Saturday night's Wisconsin-Nebraska game needs more buildup. After all, it's the Big Ten opener, the 22nd-ranked Cornhuskers (3-1) are looking to pay back the two-time defending champion Badgers (3-1) for the beat-down they got last year, and both teams will wear alternate uniforms for the first time. A little more spice was added to the budding rivalry...
MADISON, Wis. Wisconsin defensive end David Gilbert will pay a small price for critical comments he made Wednesday night concerning Nebraska quarterback Taylor Martinez.Badgers coach Bret Bielema said Thursday that Gilbert would sit out the first play of Saturday's game as a lesson for his poor word choice.Regarding Martinez, Gilbert told ESPNWisconsin.com, "it still looks...
MORE STORIES >>
College Football News

Delivered to your inbox

You'll also receive Yardbarker's daily Top 10, featuring the best sports stories from around the web. Customize your newsletter to get articles on your favorite sports and teams. And the best part? It's free!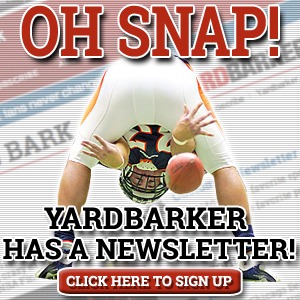 THE COLLEGE FOOTBALL HOT 10