Houston quarterback David Piland has decided to end his playing career because of multiple concussions. Piland's most recent concussion came on Sept. 7 against Temple. The junior says: ''It was not easy to hear that I can no longer play the game that I love, but I know that our medical staff has my best interests in mind.'' Piland ends his career with 5,790...
No. 84 Houston Cougars (5-7)Coach Tony Levine (second season, 6-7 at Houston and overall)Returning Starters: 15, 9 offense, 5 defense, 1 special teams Recruiting Rank: 59 Strength of Schedule: 69 It is the end of an era as Houston leaves Conference USA after 17 seasons and has played for the final time on Robertson Field as well. Their new facility, Houston Football Stadium, is...
Start 'Em:Derek Carr- Fresno State at NevadaThis should be a great fantasy match-up. This is the type of game where you play any fantasy star that is in this game, and Carr is no exception.STAFF PICK – JOE ARPASIBrett Hundley – UCLA at Washington StateGoing to one of the older rules of college fantasy football – if one of your players is up against Wazzu, play 'em! End...
David Piland threw for 362 yards and a touchdown and Matt Hogan kicked six field goals and Houston defeated UAB 39-17 on Saturday. Charles Sims added 134 yards on 26 carries and Kenneth Farrow and Ryan Jackson each ran for a touchdown for the Cougars (3-3, 2-0 Conference USA). Shane Ros led Houston with seven catches for 114 yards and one touchdown. Hogan connected on six of seven...
10. BielemicThe Wisconsin offense is a disaster.  Potatoes O'Brien got the hook and Monteé Ball should drop the accent over the 'e' and go back to scoring four touchdowns a game.  9. Drive With The Fear!David Piland and the Cougars are an embarrassment to the rich fantasy history at UH.  Andre Ware must be disgusted.  8. Running of the BullsJust run away from...
Houston sports an 0-2 record coming into Saturday's game, but the Cougars offense went off last week, with quarterback David Piland throwing the ball 77 times...
Every week (usually when a good player plays against a bad team), there are players who put up crazy video game numbers. These guys need to be recognized for completely dominating, regardless of the competition. This fantasy-structered team consists of one quarterback, two running backs, three wide receivers, one tight end, one kicker, and one defense. QB David Piland (Sophomore...
Colby Cameron threw for three touchdowns, Kevin Ting ran for three and Louisiana Tech overcame 580 yards passing by David Piland to defeat Houston 56-49 Saturday night. The two explosive teams combined for 1,291 yards of offense in a game that lasted 4 hours and 8 minutes and wasn't secured until Houston (0-2) failed on an onside kick attempt with 35 seconds remaining. Cameron...
Conference USA will have four new teams next season. This year, there are new quarterbacks and new coaches. The league had five 3,000-yard passers last season. All are gone, including NCAA record-holder Case Keenum, who at Houston because the first FBS quarterback with three 5,000-yard passing seasons. While losing the most prolific passer, Houston may also have the most ready...
David Piland looks like the sort of American boy who comes over for dinner, calls you mister and compliments the meatloaf. In this way, he is like Case Keenum, who had that effect, plus a kind of learned "I know more than I'm telling" twinkle in his eye. Like Keenum, Piland does not strike a physical imposition, either. Eyeballing him, you'd guess 6-foot-2, 195...
MORE STORIES >>
College Football News

Delivered to your inbox

You'll also receive Yardbarker's daily Top 10, featuring the best sports stories from around the web. Customize your newsletter to get articles on your favorite sports and teams. And the best part? It's free!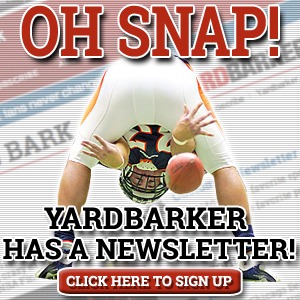 THE COLLEGE FOOTBALL HOT 10