New York Giants running back David Wilson underwent neck surgery on Thursday and seems to be feeling better already. The 2012 first-round pick was sidelined in October by a herniated disk.Wilson seems to be in a very good spirits the day after his surgery. On Friday he posted a photo — taken by the doctor — of him on Instagram standing on a table, mooning New York City.Thank...
First let me sum up for David Wilson owners how this feels in jpeg format.  According to ESPN – who are known for their hard hitting analysis so we should trust them with our sports news forever and always [/sarcasm font] – Coughlin intends to split carries between Wilson and Andre Brown this year and will actually 'ride the hot hand' which makes me visualize a flaming hand...
According to ESPN New York, Giants running backs coach Jerald Ingram said David Wilson has improved with his pass protection, but he wants to see how Wilson does in full pads once training camp starts.Fantasy Spin:Ahmad Bradshaw is gone, so Wilson and Andre Brown will be competing in camp for the starting job. As a 2012 first-round pick, Wilson has the inside edge, but Brown rushed...
Michael Eisen of Giants.com reports that RB David Wilson is being prepared as "the team's starting running back". According to Eisen, Wilson will take over previous starter Ahmad Bradshaw's starting role next season. Wilson rushed for a total of 358 yards and four touchdowns in what ended up being a limited rookie year. "I think he's in a position to compete to be the...
New York Giants running backs coach Jerald Ingram believes running back David Wilson is in a good position to be their starter this season now that Ahmad Bradshaw is no longer around. "I think he's in a position to compete to be the guy," Ingram said, per Giants.com. "He has the talent, has the speed, has a few plays from a year ago underneath his belt." Wilson will have...
It sounds like the New York Giants will have running backs David Wilson and Andre Brown compete for the starting job this season.  "Can these two young men bring the toughness and the physicalness that we've had here in the past? We're looking forward to that," Ingram said of Wilson and Brown. He confirmed they will compete for carries. Ingram also said Wilson has improved...
One of the biggest reasons why Wilson didn't get more playing time last season with the Giants is because of his inability to pass protect. Running backs coach Jerald Ingram says Wilson has been improving with his pass protection. "He's got to learn to become more of a protector, which he has been working on," Ingram said. "We've tested him within the system, he did well...
Top 5 Free Agents 1) Russell Wilson SEA QB – 205 Passing Yards 92 Rushing Yards 3 Rushing TD Russell Wilson's rise to an elite fantasy quarterback continues. The best part is that Wilson did almost all of this work in the first half. 2) Colin Kaepernick SF QB – 216 Passing Yards 4 TD 1 INT Kaepernick is another solid young quarterback, who at the very least should be kept...
New York Giants running backs coach Jerald Ingram told the New York Post that rookie running back David Wilson needs to learn how to be a complete player. "David has to learn you can't be just a runner, that's not what we do, you have to be a complete running back, you have to be knowledgeable, you have to be smart, you can't just accept your mistakes,'' running backs...
In the New York Giants Blog from Paul Schwartz of the New York Post, running backs coach Jerald Ingram had some strong words for rookie running back David Wilson in an interview on Monday: "Just because you're a first-round draft pick doesn't mean you're ready to play or they all would be great. It's about winning games, it's not a popularity contest. It's time for...
MORE STORIES >>
College Football News

Delivered to your inbox

You'll also receive Yardbarker's daily Top 10, featuring the best sports stories from around the web. Customize your newsletter to get articles on your favorite sports and teams. And the best part? It's free!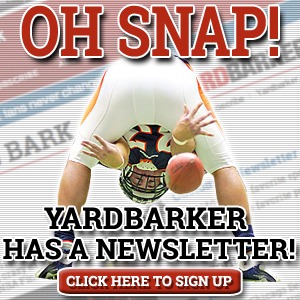 THE COLLEGE FOOTBALL HOT 10