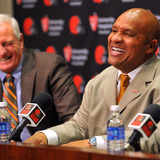 Let's get this over with right out of the gate: This is one man's vision of an absolutely bonkers opening round in the 2017 NFL Draft.It's not a careful, measured look at what will likely happen. It's quite the opposite. It's a nightmare scenario in which teams panic and reach for quarterbacks, where teams abandon reason and take huge risks in the hope of an even bigger long-term...
Former Tennessee football defensive end Derek Barnett is a Top 5 projected pick in one mock NFL Draft. He's the only Volunteers player who can go that high. Leading up to the 2017 NFL Draft, analysts have had to battle between two lines of thought surrounding former Vols star Derek Barnett: his play on the […] Former Tennessee Vols DE Derek Barnett a Top 5 Projected Pick in One Mock...
Tennessee football defensive end Derek Barnett is the best of the Volunteers in the 2017 NFL Draft. Here are the five best places for him to go to. Of all the Vols going in this year's NFL Draft, Derek Barnett is the clear-cut superstar. He should go higher than any other defensive lineman. But that's […] Derek Barnett: 5 Best Landing Spots for Tennessee Vols DE in the 2017 NFL Draft...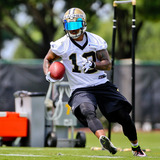 Former New Orleans Saints wide receiver Robert Meachem has not played in an NFL game since the 2014 season. In between then and now, the Tennessee product has done time in jail for failing to pay child support and alimony.That sidelined the receiver's freedom for 30 days, from Valentine's Day up until the middle of last month.Now ready to put everything behind him and start anew...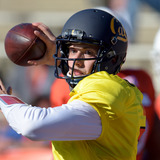 The 2017 NFL Draft class runs deep with talent at many key positions, so it's only natural some of the best players aren't getting enough positive press.Among them is a quarterback from Cal who is rarely mentioned among the top in this year's draft class — shades of the 2005 draft class maybe? — and the younger brother of an NFL star.We've already covered a group of prospects getting...
The 2017 NFL draft is about a month away, and the draft board looks like a Chutes and Ladders board with all the names going up and down.These players have seen their draft stock fluctuate wildly and probably have to brace for another roller coaster month before they finally know their future.(NFL Draft Scout and NFL.com were used for scouting reports.) Rising: Gareon Conley, CB...
Tennessee football junior Derek Barnett represents the Volunteers as a first-team All-American and a first-team All-Southeastern Conference defensive end. He got screwed out of the Ted Hendricks Award and a chance at the Chuck Bednarik Award, but Derek Barnett is at least earning respect on a national stage in other ways. A day after being […] Tennessee Vols Junior Derek Barnett...
Derek Barnett and recruiting in two sports headline the Tennessee Volunteers news on Rocky Top for Thursday, Dec. 8, 2016. Well it looks like Tennessee football has stopped its downward slide with some nice recruiting pickups this week. The Vols got another commit Wednesday, and that is part of our news on Rocky Top for […] Today on Rocky Top: Derek Barnett, Football Recruiting,...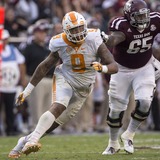 Tennessee has been on the ropes against mighty Alabama all game long, but two huge plays by defensive end Derek Barnett have kept the Vols in it. After forcing a fumble on a sack in the first quarter (which led to the only touchdown of the game for the Vols), Barnett came up huge interception late in the second quarter on a tipped pass. Here is a look at the pick, which set up...
MORE STORIES >>
College Football News

Delivered to your inbox

You'll also receive Yardbarker's daily Top 10, featuring the best sports stories from around the web. Customize your newsletter to get articles on your favorite sports and teams. And the best part? It's free!
THE COLLEGE FOOTBALL HOT 10