The Wisconsin football team returns to Camp Randall after its second bye week and will play host to Big Ten newcomer Maryland in the first ever meeting between the two schools. The game is Saturday at 11 a.m. in Madison on the Big Ten Network. The Terrapins come in with at 5-2, including a 2-1 record in the Big Ten East, while Wisconsin is 4-2 overall and 1-1 in the Big Ten West...
Wisconsin's football players probably have a decent amount of Badgers gear, but earlier this week, they each apparently gained one more item for their wardrobe – a bucket hat. Badgers head coach Gary Andersen held a contest called the "bucket hat challenge", which featured one player from each position group trying to land a golf ball inside the Wisconsin "W" at midfield...
  Wisconsin Badgers beat writer Jesse Temple will be analyzing the 25 most important players to the Badgers' success in the 2014 season. Check back each weekday to see the latest player on the list. You can find every report here. Note: This is not a list of the team's 25 best players or a series about past success, but rather which of them means the most to how Wisconsin...
MADISON, Wis. -- A year ago, fullback Derek Watt touched the ball on approximately .004385 percent of plays during Wisconsin's entire football season. And if that number seems particularly miniscule to you, that's because it is. In total, Wisconsin ran 912 plays from scrimmage. Watt finished the season with one rush for eight yards and three catches for 20 yards with a touchdown...
MADISON, Wis. -- The idea of finding significant areas to nitpick following a 45-0 victory may seem far-fetched to some, but Wisconsin coach Gary Andersen certainly is not among that group. After reviewing game footage of his team's dismantling of UMass in the season opener, Andersen came away feeling the Badgers still have plenty of room for improvement. And without further...
Welcome to the debut of our rebranded video efforts. You can now find all that we do in video form here at MTBTV. In the coming weeks and months you'll see new features and programming coming under that umbrella.  Starting it all off is a segment of our interview with Badger fullback Derek Watt from this past Friday at Wisocnsin's Media Day. Enjoy!  Also, if...
MADISON, Wis. Derek Watt gripped and sipped a plastic cup of sludge after practice on Monday. Or, more specifically, a brightly colored, thick protein shake blend that reeked of peanut butter. In the crucial months between football seasons, Watt is learning the importance of calories and weight gain from Wisconsin's trainers and nutritionists. Developing the right kind of bulk...
Watt is Looking to Step into new role as starting FB? Hopefully you're reading this site on a daily basis and chances are if you have done that in any amount of time you've probably wondered what the hell is going through our heads from time to time, right? Well today we're introducing our newest weekly feature called The Brain Trust were we'll give you a...
MADISON, Wis. Derek Watt was no stranger to being a two-way football player as a prep standout at Pewaukee (Wis.) High School. So perhaps it shouldn't come as a surprise that Watt has taken to a position switch this quickly at the University of Wisconsin. Watt, a redshirt freshman, has spent just three days playing fullback for the Badgers after moving from his linebacker spot...
MORE STORIES >>
College Football News

Delivered to your inbox

You'll also receive Yardbarker's daily Top 10, featuring the best sports stories from around the web. Customize your newsletter to get articles on your favorite sports and teams. And the best part? It's free!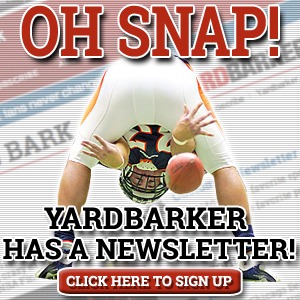 THE COLLEGE FOOTBALL HOT 10