Tennessee may have less than enthused Vols faithful with the the hiring of Cincinnati's Butch Jones, but I have a lot of positive things to say about the hiring. One thing I think may go over smoother is this potentially new helmet design shown off on Twitter by a couple of Tennessee players. Kicker Derrick Brodus tweeted this image (below) saying it was designed by @TheBEZ11...
After firing Derek Dooley and hiring Butch Jones, the Tennessee Volunteers program saw a massive change in their current attitude.  To match the change in coach, who wanted more Tennessee swagger and pride, it looks as though they are changing the helmets.  These images were tweeted out by Derrick Brodus, the Volunteers Junior kicker.The checkerboard endzones have been a staple...
An hour before Tennessee's game against Middle Tennessee State they realized they wouldn't have a place kicker. Michael Palardy was hurt," Dooley said after the Vols' 24-0 victory against Middle Tennessee State. "He hurt himself Thursday in practice but we thought he'd be fine. He couldn't go. Then (Chip) Rhome goes out there in pregame and he pulls...
Desperate times call for desperate measures. We're not big on cliches here at LBS, but if the shoe fits…oops. Anyway, when last second injuries left Tennessee coach Derek Dooley without anyone to kick field goals this weekend against Middle Tennessee State, he had to place an interesting phone call. Luckily, former high school kicker and [...]
It was 6:10 p.m. when University of Tennessee student Derrick Brodus got the call. He was lying on the couch in his frat house, waiting for the Tennessee-Middle Tennessee game to start at 7 p.m. when the football office rang and told him they were sending a police escort to get him to the stadium immediately. "I thought it was a dream," Brodus said. "I was just laying...
Derrick Brodus was having a pretty typical college frat bro Saturday until he got a surprising phone call from the Tennessee Volunteers. They needed him to volunteer. The normal kicker for the Vols, Michael Palardy, had gotten hurt on Thursday and was ruled out of the game. His backup, Chip Rhome, subsequently pulled a muscle in the pre-game warmups. With an hour to kickoff the team...
So who plays Derrick Brodus in the movie? Will Ferrell? Adam Sandler? Sounds weird, but no weirder than Brodus' story Saturday night in the Volunteers' 24-0 shutout of Middle Tennessee State at Neyland Stadium. Starter Michael Palardy was unavailable after being injured himself following Thursday's practice. Backup Chip Rhome pulled a muscle in pre-game warm-ups and...
MORE STORIES >>
College Football News

Delivered to your inbox

You'll also receive Yardbarker's daily Top 10, featuring the best sports stories from around the web. Customize your newsletter to get articles on your favorite sports and teams. And the best part? It's free!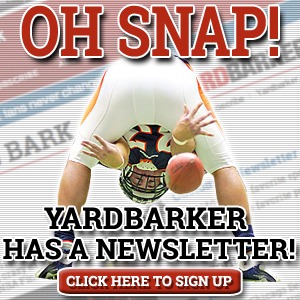 THE COLLEGE FOOTBALL HOT 10