Photo: Pete Cautilli Although there is still a lot of room for improvement, the offensive unit for the Louisville football team has made some big strides in their last two games. A healthy DeVante Parker and Michael Dyer's breakout performances have had a lot to do with it. In fact, Dyer and Parker may be having more of an impact than most realize. Parker has played in just two...
Senior wide recevier DeVante Parker and junior cornerback Charles Gaines were two of the four players that were made available to the media following Louisville's loss to Florida State. Both Parker and Gaines were disappointed in the loss, but are confident that the team can bounce back. DeVante Parker – Florida State Post Game from The Cardinal Connect on Vimeo. Charles Gaines...
Things could not have looked more promising for the Louisville Cardinals early in tonight's game against the No. 2 Florida State Seminoles. On the first play from scrimmage, Will Gardner hit receiver DeVante Parker for a 71-yard gain off of a great play-action fake. The Florida State defense buckled down after the play however, and held the Cardinals offense out of the end zone...
A broken bone in his left foot cost Louisville star wide receiver DeVante Parker almost two months of action, including seven games of his senior season. Parker proved his health is no longer an issue Saturday and made up for lost time, taking a quick slant on the second play from scrimmage for 37 yards to make his presence felt. A potential first-round prospect in the 2015 class...
Sam Sharpe | USA Today Bobby Petrino met with the media following Thursday's practice for the last time before Saturday's game against North Carolina State. As you could expect, one of the first questions he was asked was the status of star receiver DeVante Parker. The Louisville native was expected to make his return last week against Clemson, but wasn't quite as far along...
An optimistic Bobby Petrino had some good news following the University of Louisville football team's Thursday practice. DeVante Parker will be available to play against North Carolina State on Saturday. "I'm knocking on wood here, but he looks like he might be available to go," he said. "He practiced all three days and he looked good out there tonight, so I'm excited...
Andy Lyons | Getty Images Cardinal fans got their hopes up last week when it was announced that star wide receiver DeVante Parker had been cleared to return to practice and was expected to play against Clemson. Unfortunately, the Louisville native wasn't quite as far along as we had hoped. Following Saturday's loss to Clemson, Petrino said that by Thursday afternoon it had already...
Louisville has faced some injury-related adversity this season, between the loss of star wide receiver DeVante Parker for the first part of the season and the injuries to quarterback Will Gardner. However, the Cardinals are 5-1 despite those issues, and could be getting a huge lift when they travel to Clemson this weekend. Head coach Bobby Petrino believes that Parker is close to...
Coach Bobby Petrino announced Monday that senior wide receiver Devante Parker would miss 6-8 weeks with a broken left small toe. Petrino said Parker broke the fifth metatarsal and will undergo surgery later Monday. "He's such a calm guy, you wouldn't know that it really bothers him that much, and obviously it does," Petrino said […] The post Louisville will start the season...
Louisville star WR DeVante Parker will miss 6-8 weeks with a fractured bone in his foot. The injury occurred Friday night during practice. Parker led the Cardinals in receiving last season with 55 receptions for 885 yards and 12 touchdowns. This is a big blow to this offense as Parker was projected to put up monster numbers in 2014.  Fantasy Outlook: With Bobby Petrino back running...
MORE STORIES >>
College Football News

Delivered to your inbox

You'll also receive Yardbarker's daily Top 10, featuring the best sports stories from around the web. Customize your newsletter to get articles on your favorite sports and teams. And the best part? It's free!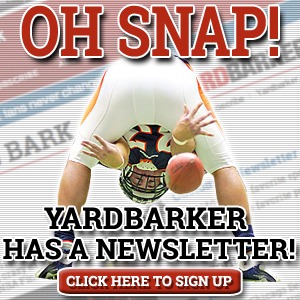 THE COLLEGE FOOTBALL HOT 10