Devin Funchess is probably the most dynamic and exciting player that the Michigan Wolverines have on the roster. If they want to keep him on it--and not on the IR--they might want to avoid hanging him out to dry going across the middle. You might as well tell the defense," Hey, guys--want to be on ESPN?" because a highlight reel type hit is about to be made.In this case...
It appears that Michigan will have its star receiver on the field when it takes on Utah this afternoon.  Devin Funchess, the Wolverines' junior wideout who has totaled 202 yards and three touchdowns this season, was expected to be a game-time decision today against the Utes.  The 6-foot-5, 230-pound playmaker is on the field for warmups and reportedly looks good.  Funchess...
Michigan could be without its star receiver this Saturday against Utah.  Brady Hoke, during an appearance with "Stoney and Bill" on Detroit's 97.1 FM The Ticket, discussed the injuries that his team is dealing with – sort of. The Michigan coach said that every Wolverine who suffered an injury during last Saturday's 34-10 victory against Miami (Ohio) will be a "game...
There was no upset in the making on Saturday afternoon as Michigan Football beat Appalachian State in dominating fashion, 52-14. The Wolverines took a 42-0 lead by halftime and never looked back. Michigan's offense was far too much to handle as the Wolverines offense doubled the production of Appalachian State, 560 yards to 280. Devin Gardner and Devin Funchess connected on three...
The University of Michigan wideout proved himself worthy of sporting the number 1 on Saturday as the explosive receiver with massive strength left Appalachian State's defense trembling in their cleats. This aint even right… The post Michigan WR Devin Funchess Gives Brutal Stiff Arm (Video) appeared first on Geeks & Cleats.
Michigan will host Appalachian State on Saturday at the Big House. The season opener for both teams will kickoff at noon and be televised on ESPN2. Below you will find our staff picks for the game. Let us know what you think and leave your prediction in the comments. Rob White Michigan finally gets to take the field again and started washing away the bad taste left behind by a disappointing...
2013 Big Ten Tight End of the Year is an honor that Devin Funchess will only realize once. Devin Funchess is entering the 2014 training camp focused on one goal, and that is being the best wide receiver in the Big Ten. Funchess' role change is one that most U of M Football fans have probably hoped for. Devin Funchess is a huge target. He stands at 6'5″ and at roughly 230 lbs...
This is part three of our Michigan Football 2014 season preview series. This edition will take an in depth look at the wide receivers and tight ends, a group that is headlined by All-American candidate Devin Funchess. Part One in the series focused on the offensive line and Part Two on the defensive line. What we know Devin Funchess set a school record for a tight end with 748 receiving...
Michigan star Devin Funchess moves to wide receiver in 2014 after appearing in the first 26 games of his career at tight end. Last season he was named the Big Ten Tight End of the Year and a semifinalist for the John Mackey Award. But more importantly, he's a guy that belongs in your NFL mock draft. At least he belongs in mine. And I am one of those people who talks about NFL mock...
Michigan Football is presently suffering through one of the longest droughts in program history. The Wolverines haven't won a Big Ten title since 2006 and they are fresh off a lackluster 7-6 season. Expectations for the upcoming season have been reduced to the lowest levels in my lifetime. Brady Hoke is entering his fourth season as Michigan's head coach. He has posted a 26-13...
MORE STORIES >>
College Football News

Delivered to your inbox

You'll also receive Yardbarker's daily Top 10, featuring the best sports stories from around the web. Customize your newsletter to get articles on your favorite sports and teams. And the best part? It's free!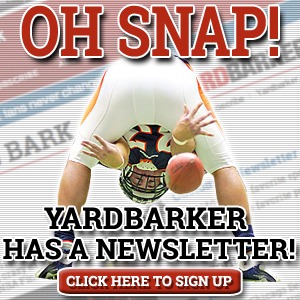 THE COLLEGE FOOTBALL HOT 10