With the Michigan Wolverwines 3-4 it is fair to criticize the play of quarterback Devin Gardner this season. The fifth-year season prepares for a Saturday match-up against No. 8 Michigan State and recently took time to talk to the Detroit News about his season though his negative interaction with fans is what stands out in this piece. "I've been called the N-word so many times...
Michigan quarterback Devin Gardner: 'I've been called the N-word so many times this year.' And the year is 2014.Last season, his first as the full-time starter, Gardner spoke about the hate email and Twitter posts he received. This year has been just as bad, if not worse, and he estimated he's received at least 1,000 negative comments via Twitter and Instagram.&quot...
It's easy. You are on your laptop, phone, tablet & etc. You are 100s or 1000s of miles of the person you are communicating with. You are anonymous, unknown and just a blip on the radar. You can say whatever you want with little to no consequence. That is how you become an internet thug or keyboard gangster. Think of all the thoughts that float around in your head during the...
Devin Gardner has had to deal with more than pretty much every other college quarterback in the country this season.  The Michigan QB has been the focus of a ton of criticism centered on the Wolverines, with Brady Hoke's team struggling at 3-4, 1-2 in the Big Ten.  In an interview with Angelique S. Chengelis of The Detroit News, Gardner spoke of the troubles he's had to attempt...
Devin Gardner started the season at quarterback for Michigan. Four games into the season, the Wolverines' senior was replaced by Shane Morris. After Morris sustained a "probable, mild concussion" against Minnesota, Gardner reassumed his starter duties.  Morris, a sophomore, is now healthy, but it doesn't appear that he'll be reasserted into the starting lineup when Michigan...
Michigan quarterback Devin Gardner emerged victorious from this past Saturday's contest against Penn State, but he was certainly beaten up in the process. The Wolverines signal-caller was forced to sit out two series in the third quarter due to a left ankle injury – one that required a protective boot after the game. He was also sacked three times and faced constant pressure...
To say Brady Hoke and his Michigan Wolverines were desperate for a win at home against Penn State under the lights would have been a monumental understatement. Yet it would be a very true assessment of the importance of the game played in Ann Arbor on Saturday night. A game of which was undecided until well late into the dramatic, tense end of the 4th quarter. Michigan needed something...
Michigan's free fall continued with a 26-24 loss to Rutgers on Saturday night. The Wolverines are now 2-4 and 0-2 in the Big Ten. Rutgers rolled up 476 yards of total offense and had little trouble coming up with big plays when they needed them. Devin Gardner made some big plays for Michigan, but he also tossed an untimely interception in the third quarter. When it came down to...
Super weak… I was hoping to write this recap about all the things the wolverines did right. Now I fear I must analyze the wrong. I think these two numbers sum up the game pretty well. The wolverine defense gave up 373 yards and the Michigan offense accounted for 171 total yards. Who's playing quarterback? Devin Gardner has been a total disappointment this season but there's...
On Twitter @TheCoachBart There was this thing going around this past offseason, and it wasn't 22 Jump Street, which I'm pretty sure all of about seven people paid to watch. It was this thing about the starting quarterback job at Michigan. It shouldn't have been a thing, and really, inside the walls that mattered, it wasn't. It was just cannon fodder for media looking for...
MORE STORIES >>
College Football News

Delivered to your inbox

You'll also receive Yardbarker's daily Top 10, featuring the best sports stories from around the web. Customize your newsletter to get articles on your favorite sports and teams. And the best part? It's free!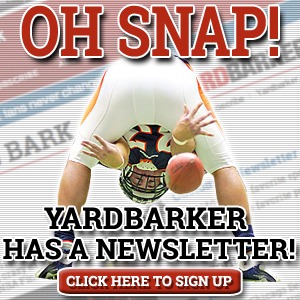 THE COLLEGE FOOTBALL HOT 10