Big Tentacles - The Big Ten and its influence over college football.A Whole New World.Pete Thamel looks at how Ohio State is dealing with the loss of starting quarterback Braxton Miller for the season. (SI.com)The Constant Gardner.Zach Travis profiles Michigan starting QB Devin Gardner. (Maize N Brew) The future is arranged. Michigan schedules a home-at-home series with Washington...
This is part seven of our Michigan football 2014 season preview series. This edition will take an in depth look at the quarterbacks, a group that will be centered around fifth-year senior Devin Gardner. Part six of the season preview series focused on defensive backs and part five focused on the running backs. What we know Devin Gardner (Photo by Gregory Shamus/Getty Images) In...
The Michigan football team will be wearing new uniforms for one game this season. The Wolverines will wear an alternate "Go Blue" uniform for their "Under the Lights" contest against Penn State Oct. 7.  The uniform features a blue jersey and blue pants to go with the Wolverines' traditional helmet. The TECHFIT design utilizes striped numbers that should show well for...
Last season there wasn't a more talked about quarterback in the Big Ten than the Michigan Wolverines' Devin Gardner. He had a penchant from the spectacular and a penchant for some downright awful play all at the same time. However, as we come closer to the start of a new season, one thing is clear—Devin Gardner isn't going anywhere as Michigan's starting quarterback. Head...
Wolverines starting quarterback Devin Gardner seems to really be enjoying himself with Real Madrid and Manchester United in town for their International Champions Cup match, set to take place Saturday at Michigan Stadium. Yesterday, we showed you a photo of Gardner hanging out with soccer superstar Cristiano Ronaldo. Today, Gardner may have scored an even bigger get – a good portion...
Devin Gardner is throwing a FOOTBALL w Real Madrid players. (Sorry. Can't zoom more than this) pic.twitter.com/CgwqvkbpDq — angelique (@chengelis) August 1, 2014 Being a major college football does seem to have its perks, even if they aren't getting paid. Not every day that you get to meet world class soccer players and play catch […] The post Michigan's Devin Gardner Throws...
I understand where the Devin Gardner and Braxton Miller Heisman Trophy talk is coming from, but I don't buy it. The starting signal callers for Michigan and Ohio State are indeed stars, among the best in the Big Ten, but they're not among the elite in the nation. The Big Ten simply isn't all that great. But it's summer, it's preseason and you got to hype somebody. Everyone...
  Earlier this week during Big Ten Media Days, Brady Hoke was asked multiple times who his starting QB would be. Even though the team brought Devin Gardner with them to Chicago to represent the team, Hoke would not name him as the guy. Today while in Bristol on Numbers Never Lie, he admitted that Gardner is the starter for now at least: "Going in (to camp, there will be competition...
Previously:Offense: Offensive Line, Running Backs, Receivers/TE'sDefense: Defensive Line, Linebackers, Defensive BacksThere are some folks out there who think Michigan has a quarterback controversy. Maybe they're just tired of what they've seen from Gardner, or unimpressed, or think that maybe some new blood can rejuvenate the offense. Either way, those folks were pretty...
It's easy. Or at least that's what Devin Gardner says. The fifth-year Michigan quarterback and his teammates found little difficulty...
MORE STORIES >>
College Football News

Delivered to your inbox

You'll also receive Yardbarker's daily Top 10, featuring the best sports stories from around the web. Customize your newsletter to get articles on your favorite sports and teams. And the best part? It's free!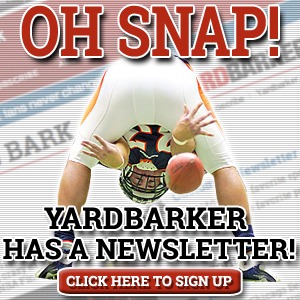 THE COLLEGE FOOTBALL HOT 10