Devin Lucien is a lot of things, but understated is not one of them.  As No. 7 UCLA preps this week for the 2014 season opener at Virginia, Lucien is debuting a new hairstyle. His wild, curly, blonde-topped mohawk illustrates that point perfectly. "Swag, right?" he said, Tuesday morning.  Swagger is also something Lucien isn't lacking. The hair is somewhat symbolic...
UCLA receiver Devin Lucien was taken by ambulance to a hospital after suffering a head injury during practice Tuesday. Lucien later was released from the hospital and was set to rejoin the team late Tuesday night, according to a person in the football program who was not authorized to speak publicly on the matter. Lucien was injured when he hit his head on the ground during a drill...
  UCLA receiver Devin Lucien has left practice in an ambulance after injuring his head. Bruins coach Jim Mora was visibly concerned about Lucien after Tuesday's afternoon practice at training camp in San Bernardino. Lucien is an athletic junior known for acrobatic catches in practices and games. Mora believes Lucien was injured when he hit his head on the ground while making...
UCLA wide receiver Devin Lucien suffered an apparent head or neck injury Tuesday night at practice. Ryan Kartje of the Orange County Register was at UCLA's practice and detailed what happened to Lucien.
LOS ANGELES -- It was about a year ago wide receiver Devin Lucien showed up on the radar, introducing himself as the next No. 1 wide receiver at UCLA. Since then, Lucien has yet to get off of that radar. On field, he's quite possibly one of the most dazzling receivers. Off the field, he's always one of the most dazzling interviews.  Lucien finished the season on a high note...
Redshirt junior wide receiver Devin Lucien talks about playing without Shaquelle Evans for the first time at UCLA and whether his attitude has changed...
LOS ANGELES -- For the first time in his young career, it's rivalry week for USC safety Su'a Cravens. Although he wasn't a part of the team yet, hes well aware of the 38-28 defeat the Trojans suffered at the Rose Bowl to UCLA last season. This time last year, he was still in high school but Cravens is intent on exacting some revenge with a twist. Of course, defeating...
LOS ANGELES -- Devin Lucien will play against one of his best friends in Su'a Cravens on Saturday. Several other players will play against their former teammates, kids they played against during camps and even as far back as Pop Warner football. This is what sets the UCLA-USC rivalry apart from other college football rivalries in the country. With only 12 miles that separate...
Devin Lucien talks about his role on the team this year, why he chose UCLA coming out of high school, and the offense's struggles recently...
SAN BERNARDINO, Calif. At the start of spring practice a few months ago, UCLA wide receiver Devin Lucien introduced himself to a group of reporters standing on the sidelines of Spaulding Field. He shook each hand and introduced himself as a starting wide receiver. "I'm competing for a starting spot. Period," Lucien said. Much like a politician, Lucien began campaigning...
MORE STORIES >>
College Football News

Delivered to your inbox

You'll also receive Yardbarker's daily Top 10, featuring the best sports stories from around the web. Customize your newsletter to get articles on your favorite sports and teams. And the best part? It's free!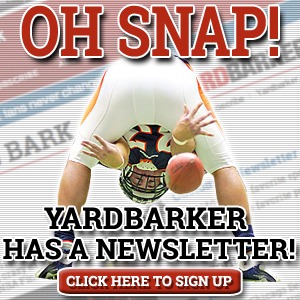 THE COLLEGE FOOTBALL HOT 10