This is the time of year where no news about your favorite college or pro team is good news. With no practice going on pretty much the only thing you are going to hear is someone got arrested, injured doing stupid human tricks, or in a car/plane/boat/ accident.Such is the case for the Ohio State Buckeyes and wide receiver Devin Smith who got in a car accident recently.@TheLanternThe...
It seems that every big name receiver in recent Ohio State history has a catch or catches that cement them in Buckeye football lore forever. For instance, we all remember Michael Jenkins making a spectacular over the shoulder catch against Purdue in the "Holy Buckeye" game to keep Ohio State's undefeated season alive in 2002. We also remember just three years later Anthony...
Devin Smith came out of the California game as the Buckeyes' top "champion", but there were not a lot of other standout performances. Ohio State head coach Urban Meyer talked about Smith and his teammates while also looking ahead to the last week of nonconference play.
  Sophomore WR Devin Smith, via The Dispatch Buckeye Nation was trying to stay motivated following the first quarter of Saturday's game against Miami (OH); finally the crowd erupted with energy as Devin Smith leaped into the air and saved a wild pass with a one-handed catch for a touchdown. Smith's catch was more than just amazing, it threw him in the early mix for catch of...
Devin Smith's highlight reel catch was the first of OSU's eight TDs (AP) The final score might have been about what we expected; Ohio State easily outclassed Miami University on the both sides of ball.  A 56-10 victory is always a great way to start the season even thought this didn't qualify as much of a test. It wasn't so much the win itself, but the key elements of...
Ohio State wide receiver Devin Smith scored the team's first touchdown of the season during Saturday's game against Bowling Green with an unbelievable one-handed grab. Smith's second quarter touchdown gave the Buckeyes a 7-3 lead and opened the floodgates for Ohio State as they rolled along to a 56-10 victory. Video via. H/T LBS. Visit us at http://holdoutsports...
Even though the Buckeyes were blasted with NCAA sanctions this past offseason, someone forgot to tell Devin Smith that this is only week one on the schedule and it's only Miami of Ohio on the other side of the ball. Here Smith makes what very well could be the catch of the season in a one handed grab at the back of the end zone from QB Braxton Miller. Ohio State went on to destroy...
Look at Ohio State welcoming in state rival Miami and throwing a 56-10 beating on the bros. Yes, the days of Jim Tressel pulling out 20-3 wins against the MAC are over. Now the Buckeyes have Tebow Braxton Miller throwing for two bills and rushing for another 163 yards. And let's not forget that 23 of those yards came via an amazing one-handed TD catch from Devin Smith. Will you...
We are only, what, two or three days into the new college football season and already we have what could be the catch of the year, or at least that's what Eric Collins of the Big Ten Network believes. Ohio State Buckeyes receiver Devin Smith hauled in a one handed that appeared to have been slightly overthrown by quarterback Braxton Miller. The touchdown put the Buckeyes ahead...
He caught a touchdown pass in his first college game and later caught the game-winner in Ohio State's biggest win of the season. But in retrospect, Devin Smith saw himself much more as a secret than secret weapon in 2011. And now that the slate's been wiped totally clean and new coach Urban Meyer has put out a very public call for offensive weapons, Smith sees big things...
MORE STORIES >>
College Football News

Delivered to your inbox

You'll also receive Yardbarker's daily Top 10, featuring the best sports stories from around the web. Customize your newsletter to get articles on your favorite sports and teams. And the best part? It's free!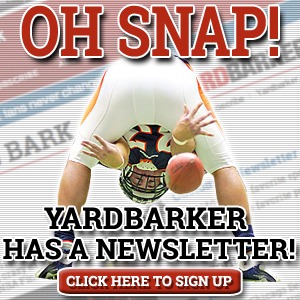 THE COLLEGE FOOTBALL HOT 10