SDS - Mississippi State center Dillon Day stomped on two different LSU players. First, Day stomped on Davon Godchaux's stomach, and then he jumped on Rashard Robinson's groin, taking him out of the game. He was suspended for half a game last year for stomping a player in the Auburn game. Dillon Day also received an unsportsmanlike penalty later in the game for a late hit after...
Mississippi State lineman Dillon Day took to Twitter on Monday two apologize to Bulldog fans for stomping on two of LSU's players.
So many things happen on a football Saturday that it's almost impossible to remember or accurately keep track of it all, unless you are glued to Twitter for the better part of 14 hours and nope, no sir, don't know anyone like that around here because who has the time for that, certainly not me, no, not at all. But, by now, you may have heard about Mississippi State center Dillon...
Mississippi State scored a huge road victory over LSU this past Saturday, but the win did not come without controversy. Bulldogs center Dillon Day, who was suspended for the first half of a game last year for stomping on an Auburn player after the whistle, apparently committed the same infraction twice in Baton Rouge. In the video below, posted by Saturday Down South, you can see...
LSU fans are fired up and pissed off about Mississippi State OL Dillon Day's antics during Saturday night's upset win over the Tigers. During the game, ESPN showed two replays of Day jumping up and stepping on two different players for LSU. Apparently, this isn't Day's first time doing this as he was suspended for stepping on an Auburn player last year. I'm sure that this...
Mississippi State's Dillon Day stomped on LSU's Davon Godchaux in what may be the dirtiest play of the 2014 college football season. Day took a page right out of Detroit Lions defensive tackle Ndamukong Suh's dirty playbook. Check out the video:
Mississippi State Bulldogs offensive lineman Dillon Day stomped on LSU Tigers defensive lineman Davon Godchaux, and got away with it, during Saturday night's game in Baton Rouge.Despite the blatant unnecessary roughness, Day was not called for a penalty on the play. You have to wonder how the officials missed this one since it happened right at the end of the play right near...
Mississippi State OL Dillon Day did his best Ndamukong Suh impersonation on Saturday night's game against LSU. Early in the game, he jumped up and blatantly stomped on LSU DT Davon Godchaux. But the officials appeared to miss the infraction, and even though he should have been ejected, he was not flagged following the incident...
THAT CREEP CAN ROLL, MAN
Mississippi State center Dillon Day stole the show at the bowling alley, throwing this strike from the center position. Even The Dude is impressed.
The fun of this video doesn't begin until about the 3:08 mark when Dillon Day, the starting center for the Mississippi State Bulldogs, quite confidently "snaps" his bowling ball at the bowling alley the team went to. Oh, and he just happens to knock down all the pins: Fat guys need work on their celebrations. We are most impressed with though with how casual he was about it...
MORE STORIES >>
College Football News

Delivered to your inbox

You'll also receive Yardbarker's daily Top 10, featuring the best sports stories from around the web. Customize your newsletter to get articles on your favorite sports and teams. And the best part? It's free!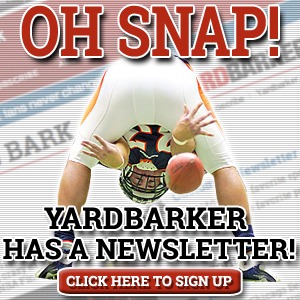 THE COLLEGE FOOTBALL HOT 10